Accounting: Bulk Payment Processing Using ChargeItPro Credit Card Vaulting
G2 – Accounting
Bulk Payment of Billing Using Vaulted Credit Card Numbers in ChargeItPro Credit Card Processing
This feature allows payments to be applied in bulk to outstanding AR Invoices by using credit card information stored on the ChargeItPro server.
This enhancement is only available to G2 Users using ChargeItPro. 
In G2 Accounting> Accounts Receivable> Maintain Customers, select a Customer and click on the Miscellaneous Tab.
Click on the Add Card(s) to File button (if it is the first card added) or Manage Card(s) on file (if a card is already vaulted), and add the Credit Card information in the fields provided, then click on OK.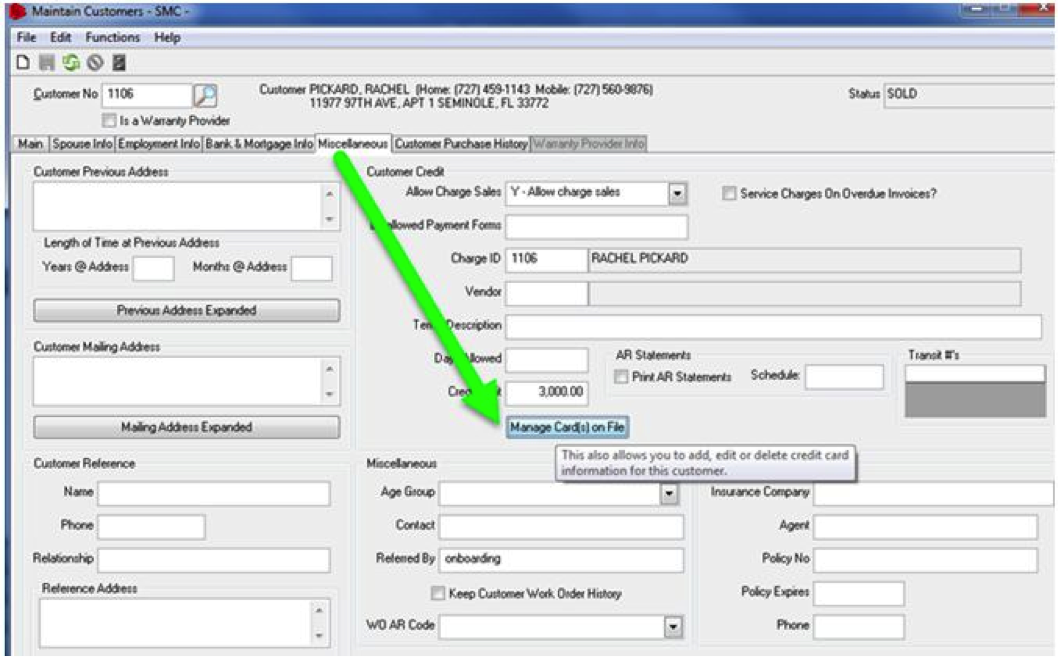 In G2 Accounting Accounts Receivable> Take Payments, click on Functions on the upper task bar and then select Vaulted Credit Card Payment in the dropdown list. This should open another window with all the outstanding AR for any customers who have a card on file.
 The user can optionally pay all open AR invoices or select just a few or just one. They can also change the amount to pay for any selected invoice up to the amount of that invoice balance.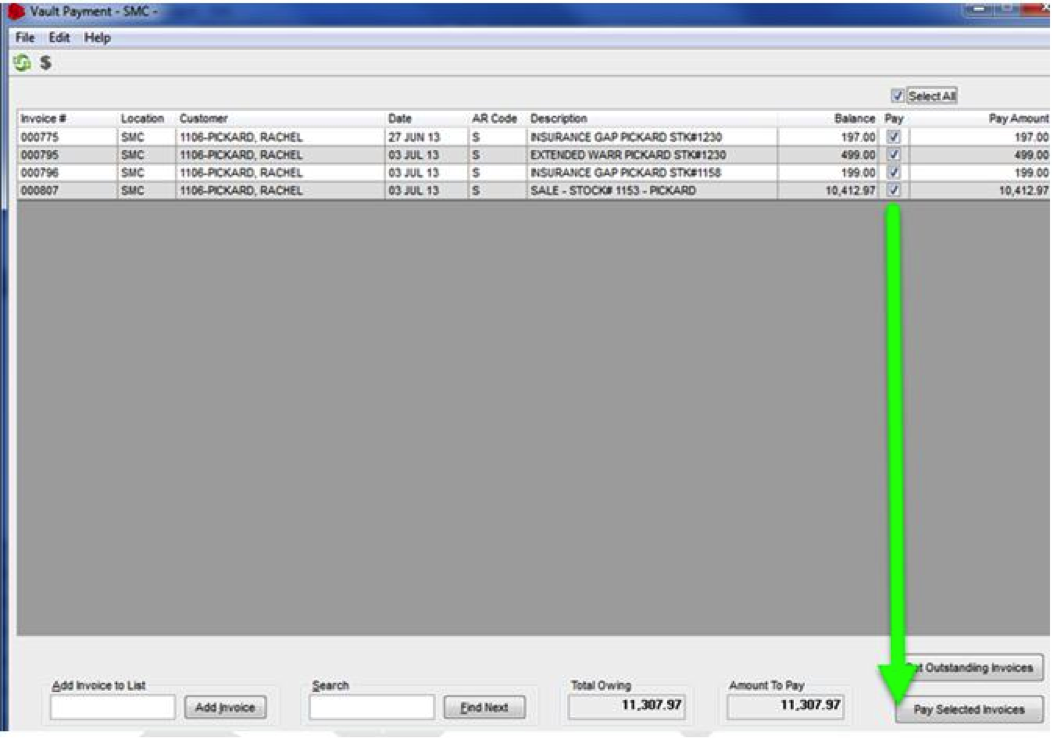 When the user clicks on "Pay Selected Invoices", they should briefly see a progress bar outlining the progress of the automatic payments.  At this point, each customer is being billed on the credit card place in the vault.
Once completed, a report of all the payments that were run will appear, indicating if they succeeded or not.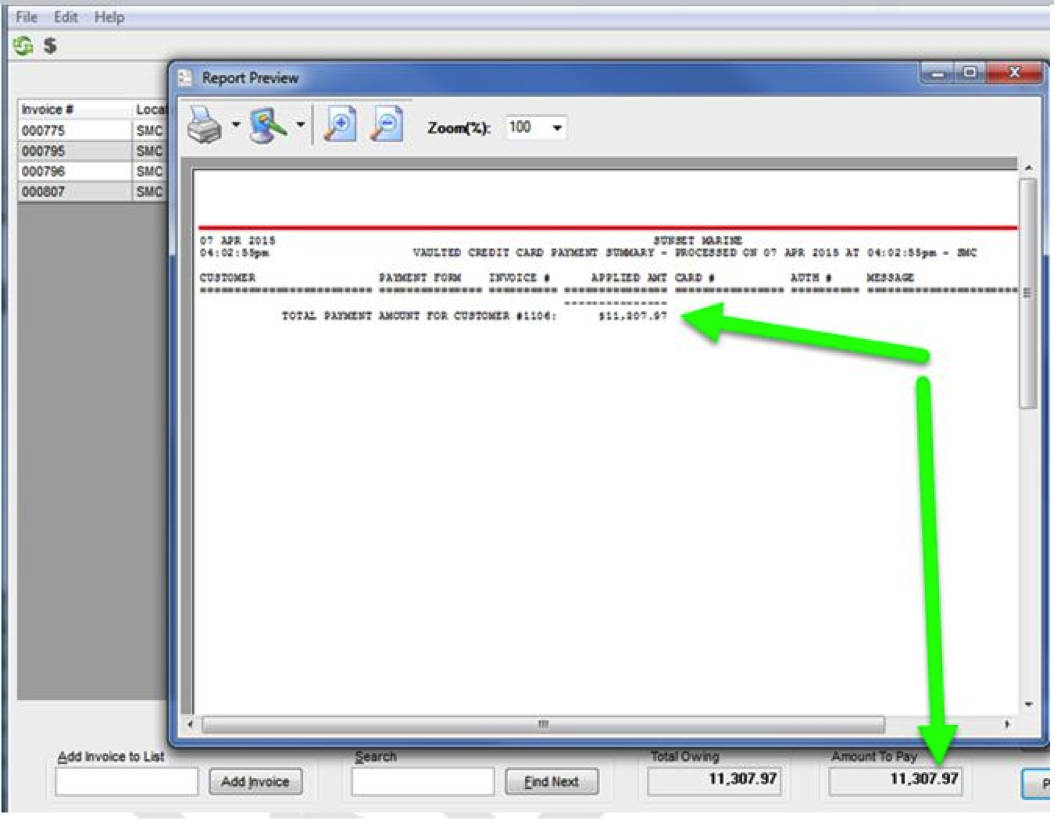 Payments which have succeeded will have been registered on the AR Invoices and GL transactions should have been created for the payments.
Requirements:
1. ChargeItPro must be installed on the users machine for vaulted credit card payments to work.
2.  Subroutine Security code 10396 should allow/disallow this function.
3. The "Vaulted Credit Card Payment" menu item will not be visible at all if the location the user is logged in to is not set up to use ChargeItPro.
To See the Layout Changes To Take AR Payments to Improve Loading Speed:
The layout of the Take AR Payments task has changed to improve application load speed.  The tab group the user is accustomed to seeing in the Take AR Payments task (shown below) has been removed.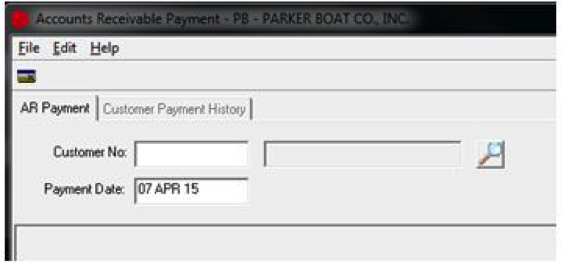 The Customer Payment History functionality is still present in the application, but it now can be accessed in one of two ways.
Clicking on the "Functions" menu, the user will see a new item in the Dropdown: View Customer Payment History.
Clicking on View Customer Payment History will allow the User to enter a Customer #.