Annual Letter from IDS GM
Product Development
We continue to invest heavily in product development with a focus on Service. We know service has been challenging, especially over the last couple of years, based on RECT statistics. IDS can't help parts magically appear, but we are trying to help your service department become more efficient and productive through tools your team can leverage to reduce your RECT.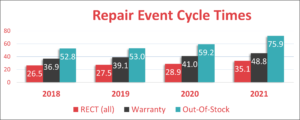 Service
Based on an examination of RECT data, dealers using ServiceCRM/ServiceMobile are getting units back to their customers a full 10 days sooner than dealers not using those tools. Now, we can't take all the credit as dealers who put a specific focus on service productivity will tend to invest in the department, but the case study shows a strong association. Why? As an example, if you do 1000 Work Orders a year and IDS solutions can help you shave off even one hour per Work Order, that's 1000 hours your team doesn't need to spend on unproductive tasks such as:
Playing phone tag and endless voicemail back-and-forth with customers
Your techs walking around the shop to log hours or get assignments – keep them in your bays working
Service teams needing to jump around many different screens or use sticky notes to stay organized
ServiceCRM:
As you know, ServiceCRM is our product that came out last year to help service teams stay organized and easily communicate with customers at the right time. This year, we added additional features such as:
Two Way Email Sync: Send and receive emails directly from ServiceCRM, capturing all customer-facing communication autom
Click To Call: Make phone calls directly from ServiceCRM and capture notes.
Appointment Reminders: Send automated appointment reminders to service customers.
Message Templates: Create and share message templates for SMS and email to streamline customer communication.
Rules Engine Enhancements: Follow-up events and activities can now be created and edited, and you can now create events and activities for specific Work Orders, jobs, and PO statuses – creating customer communication journeys your competitors will envy.
Parts Request Manager: Allow your technicians to request parts without paper or walking up to the parts counter.
Sales
IDS' all-new, easy-to-use web-based SalesCRM is being released to early adopters soon, with a generał release after the early adopter program has been completed. From shows to your showroom floor, this new CRM helps sales teams manage customers and leads from anywhere, as easily as sending a text message – so your salespeople can spend more time helping customers, and less time in your CRM and DMS.
Learn more about IDS' all-new SalesCRM here.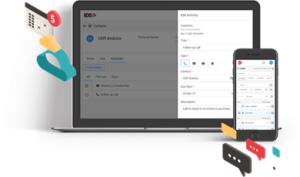 Email Marketing
Introducing IDS' all-new email marketing platform, IDS Engage: email marketing and your DMS, together. Engage helps dealerships target customers using DMS data, so dealers can grow their business by delivering more relevant marketing messages to customers and potential buyers.
Cloud Operations
We recently hosted a webinar presented by Roger A. Grimes, Data-Driven Defense Evangelist at Knowbe4, and David Darrell, Cloud Expert at IDS. They shared what dealers can do to defend their business against dangerous cybersecurity breaches like ransomware. One of the top defenses they shared was upgrading your dealer system to the cloud. The IDS Cloud environment offers greater protection against security threats due to four key components:
Social engineering, which prevents the cloud environment from being compromised, even if your local machine is breached.
Patching, to ensure that your system is up to date to protect against new vulnerabilities.
MFA (Multi-Factor Authentication) within the Azure environment, and we are working towards introducing MFA to the IDS Cloud solution.
KnowBe4 training and testing for all IDS employees, to ensure they are aware of and able to identify phishing threats.
Learn more about IDS Cloud here.
Customer Experience
Customer Success
Our top priority has always been to improve your experience with the use of our software. Building a Customer Success team was a step forward toward anticipating the potential problems and preventing them from happening again. To help improve your experience with the use of our software even further, we recently expanded our Customer Success team to a larger group by adding three additional resources to the team.
The mandate for the newly expanded team is to help you achieve and surpass your business goals by being proactive towards your needs, providing you with dedicated critical care support for the successful integration of our new products, and focusing on easy product onboarding to help you see the value and adapt to our products.
Customer Support
While our Customer Success team focused on elevating your experience with the use of our software in 2021, our Customer Support department continued to improve on their first response time and same-day ticket close rates to your inquiries.
Last year, we increased the size of the support team by six people. Two people were added to each of the accounting, operations, and network services teams. The new additions to the team helped with an increased same-day ticket resolution percentage even with an increase in requests for assistance. To continue enhancing your experience with our support group, we are expanding the team even further by adding eight additional support staff to the team in 2022.
We are also excited to announce that we will be increasing our support hours by 20% by extending our support coverage to Saturdays and providing better West Coast coverage by the end of this year. Even though we improved on our response times and same-day resolution rates in 2021, we know that there is still room to improve. Extending our support coverage to Saturdays will enable us to provide you with more timely responses to your inquiries and resolve your issues faster. More information to follow in the next few weeks.
We are proud that the IDS Customer Portal continues to be used regularly! In case you haven't heard, the IDS Customer Portal is an online destination where you can:
Find answers to commonly asked questions by using our Google-like Knowledge Base
View over 2,200 bite-sized articles and videos
View training video tutorials
Create support tickets
See the status of your support tickets
Chat with our support professionals
If you do not have a login, request access here: portal.ids-astra.com/login/user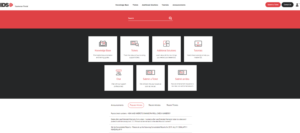 IDS Chat Support
We are happy to see that customers continue to embrace using Chat Support regularly. We have made starting a chat even easier by adding a new button in G2:

Customer Experience Year in Review
We still have more work to do and are continually investing in improving the customer experience. Here are our latest stats:
62% of tickets were completed on the same day
80% of tickets were completed within 24 hours
99% of customers were happy with their support experience
Professional Services Group  
We continued to see an increase in the number of new dealers choosing to use IDS software as their DMS to achieve their business goals in 2021 and 2022. Here are the results:
104 additional locations went live on IDS
Hundreds of people have attended our free training webinars
Over 25 million marketing emails were facilitated through our CRM
Our Virtual Workshops are highly attended
Our Virtual Workshops showed success in 2021, and because of that, we are continuing this style of training going forward. We will have one to two sessions per department. Please check below for an updated schedule:
After carefully analyzing the increased labor and overhead costs due to inflation, and to drive the level of resources and investment in R&D that we plan to continue providing, we have found it necessary to adjust the rates of our services in line with today's inflation reality. Please be assured that our increase is well below the general trend of increases IDS has received from its technology partners. The adjustments will go into effect in the August 2022 coverage period.