Astra G2's Welcome Page is Your Go-To Resource Center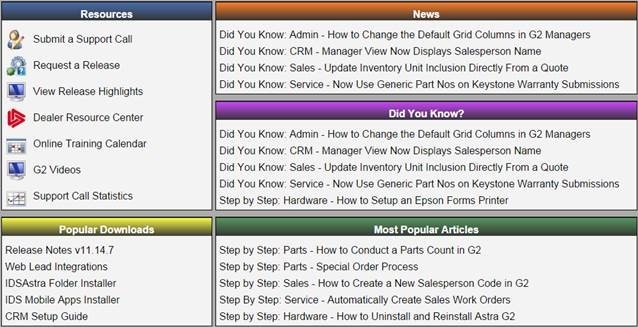 The latest release of Astra G2 now includes an updated Welcome Page.  You should make it a point to check this page frequently because it serves as your go-to resource for software help and the most up-to-date news and announcements from IDS.
There are many items we have placed on the Welcome Page to assist you in your daily operations. On the upper left side you'll see a Resources section which contains links to assist you with the G2 program and to get assistance from our staff.
G2's Resource Center Includes:
Submit a Support Call

 – This link allows you to submit a support request for any questions you may have. 

Request a Release

 – Click this link to schedule an appointment to upgrade to the latest G2 release.

Dealer Resource Center

 – This link will take you to the login screen for our DRC library.

Online Training Calendar

 – View and register for our upcoming online training classes.

G2 Videos

 – View step-by-step processes on how to use important features in G2.
Below the Resources section, you'll see a Popular Downloads area.  This is where you can download the most up-to-date release notes and other important G2 software downloads such as the CRM Setup Guide, Web Lead Integrations, etc.
The right-hand side of the screen includes all of the latest news, did you knows, and most popular articles from IDS.  These sections are updated frequently, so it's important to check these sections often in order to stay well informed on what's happening at IDS.
We are continually improving our Welcome Page to help provide you with as many tools and resources necessary to get the most from your system.  If you have any suggestions or feedback, send your requests to Mark Jakobsen at m.jakobsen@ids-astra.com