Sales: Change Delivery Dates on Posted Deals
IDS has added the ability to change the delivery date on posted deals.
A Deal that has been Posted to the General Ledger can now have the Delivery Date changed in G2. This change is reflected in the Deal, on the Unit, and in the Delivery Calendar.
This improvement only affects G2 Users.
To See this, open G2 and go to G2 Sales> Finance> Update Deals, Select a Deal that has already been Posted to the General Ledger (the Unit sold will have a status of Final Sale (FS).) Then on the task bar at the top of the screen, select Functions, and on the dropdown, select Change Delivery Info – see below: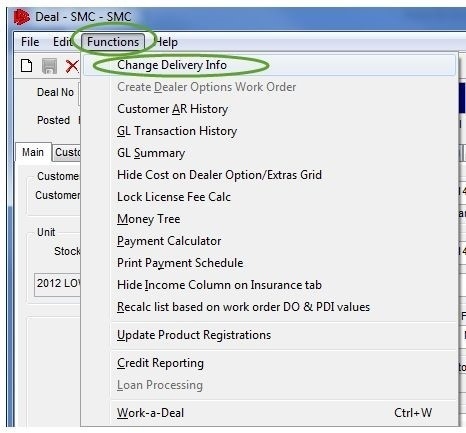 A new window will open, labeled Delivery, which will list the existing Delivery info and can be changed here to any date within 365 days. Access to this screen is controlled by Subroutine Security Code 1596. An example of the new Delivery Window is shown below: