New! Clean up the Clutter and Get Your Data Organized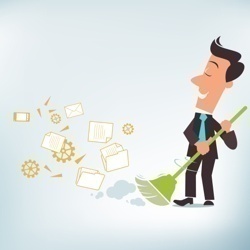 Are you tired of dealing with irrelevant and outdated data in your IDS system? Do you feel that it's slowing you down and you're wasting time trying to find your way through the clutter?
Based on popular demand, we're introducing our new Clean up the Clutter Service. This service will help you organize your data and save you time and headaches down the road.
Our New Clean up the Clutter Service includes cleanup of:
– GL Post Control to clean up units you no longer sell
– Franchise File
– Finance Companies/Codes
– Insurance Companies/Codes
– Business forms
– Old GL accounts
– Verifying GL to DMS
– Sales Extras codes
– Parts Extras codes
– Services Extras codes
– WO bill codes
– Dealer Option codes
Special summer pricing:
– $995 single location
– $395 each additional location
Contact your account manager to discuss this new service.