IDS Astra Database Files Incorrectly Quarantined
A recent update to Windows Defender anti virus application has caused it to believe that some of the Astra database files may be viruses. Defender is quarantining these files causing many different file errors within the IDS Astra and G2. Normally it is possible to restore the file from the quarantine list to get Astra and G2 working again.
To see if you have anything that may have been quarantined, please log on to the Astra server and follow these instructions:
Click on START and type Windows Defender, to search for the program
Open Windows Defender and go to the History tab at the top.
Click the button "View details" button at the bottom of this screen. "Quarantined items" should be the default choice already.
In the details of the listed items, you will see a path for the file of E:\UV\Accounts\… that would indicate that this is an important G2 database file that has been erroneously quarantined.
Select that item and click on the Restore button. After a few minutes it should restore the file and remove it from the list.
If there is an error instead that it cannot restore the file, you may need to reboot the server first to allow it to restore the file.
You should NOT click on the "Remove" or "Remove All" buttons without being absolutely sure that the quarantined file is not needed.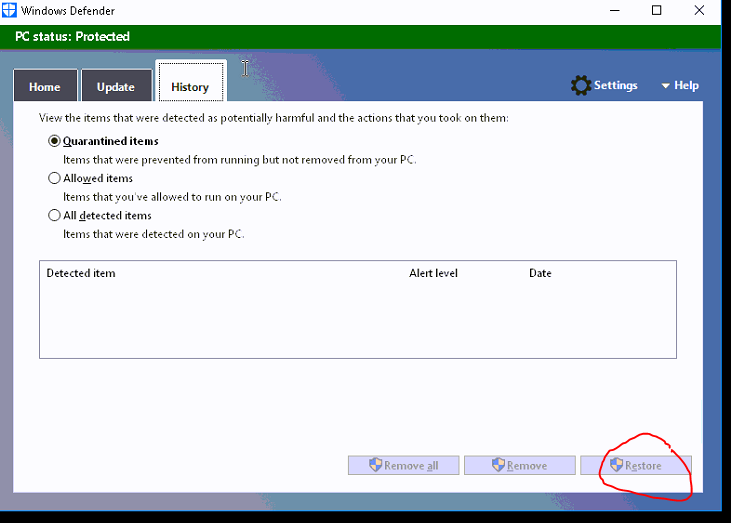 To prevent Windows Defender from quarantining Astra files in the future,  we recommend adding the following folders to the exclusion list.
At the top of the Windows Defender window, click on the "Settings" cog in the top right corner of the window.
Scroll down in the list until you see Exclusions and click on "Add an exclusion."
Add the following exclusions (by order of importance), by browsing to each folder in the "Exclude a folder" addition:
E:\UV
E:\MITS Report
C:\inetpub\wwwroot\IdsG2Client
C:\Program Files (x86)\Integrated Dealer Systems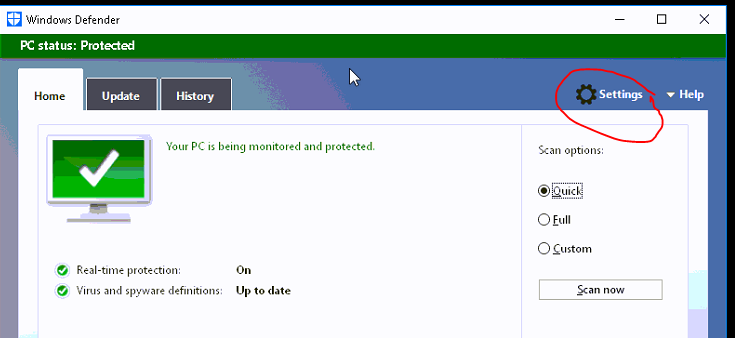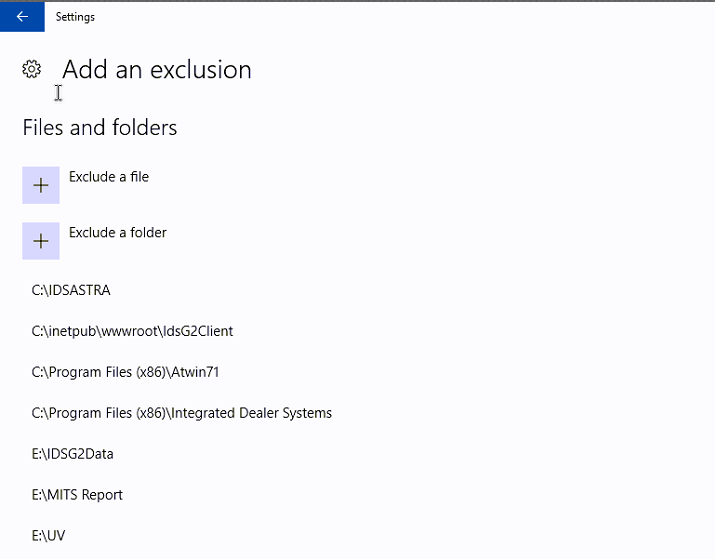 If you have any questions, please feel free to contract out Network Service team at support@ids-astra.com. Please include "Windows Defender" in the subject line to help us route the ticket to the appropriate team.