Inventory: Marine Motor Selections
Release 11.14.4
Release 11.14.4 now allows motor selection in G2 unit build for marine dealers.
This feature allows another layer of information to be included the Unit Build function for new Units in Sales Quotes, Finance Quotes, Deals and Maintain Unit Inventory.
This Option applies only to Dealerships using G2 and selling new Marine units.
To Use the Selection of Motors in Unit Build:
*Note: Activating the Motor Selection option for Unit Build will require a call or an email to IDS Support to turn this feature on for your Account before proceeding.
First, to make sure the Unit Build feature is activated, in G2 Admin> Setup> Update Module Configurations> click on the Inventory tab, then make sure line 24 "Use Unit Lookup at Manufacturer Prompt (Y/N)" has a value of "Y", then Save.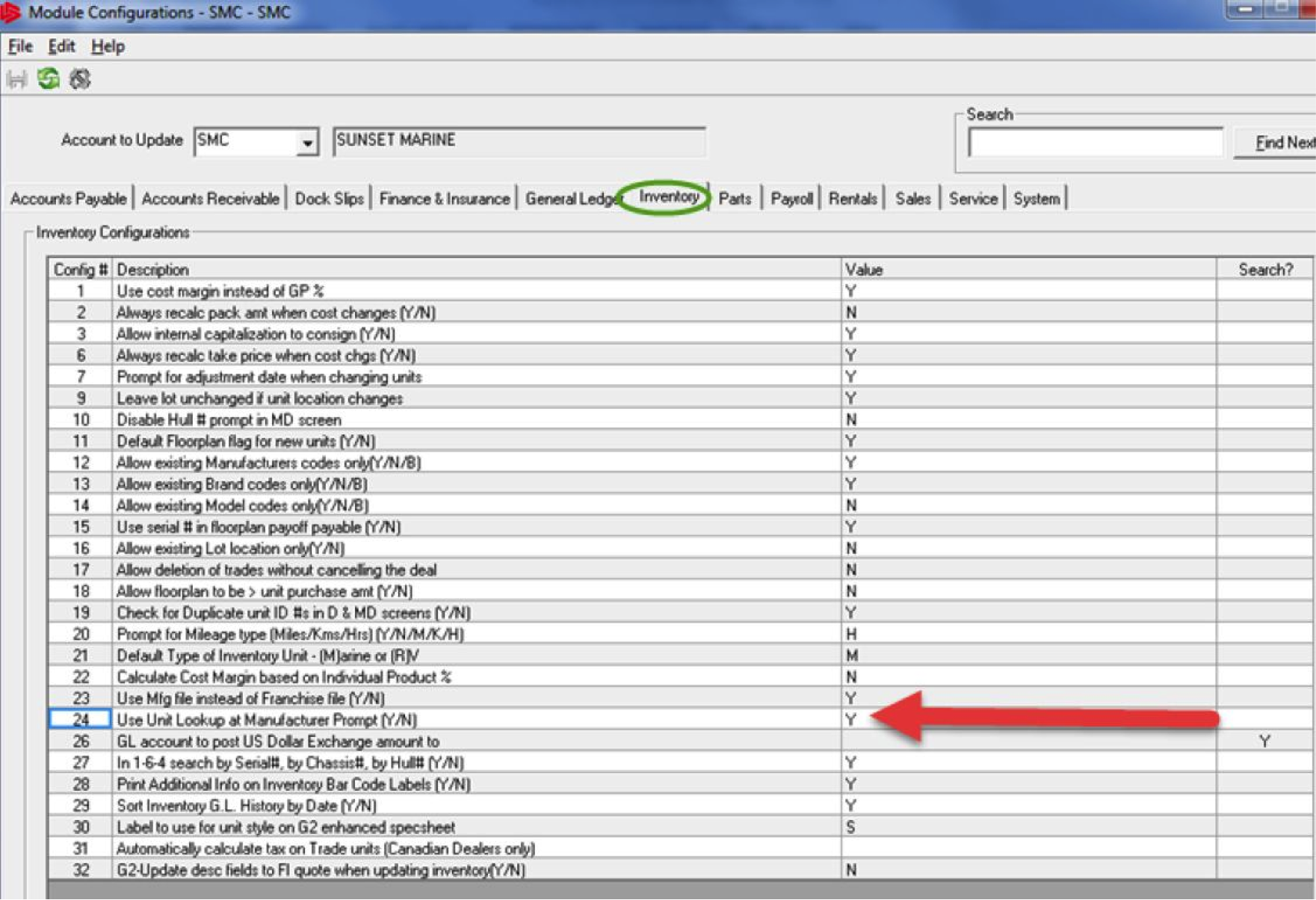 In G2 Admin> Setup> Update Codes and Tables> Inventory> Maintain Mfg. Specs, select an existing Spec's Manufacturer, Brand Model and Year. Click on the new tab Motors. Now enter each choice the Customer will have on a line in the grid, and then Save. These choices will now be available to be selected in the Unit Build.

In G2 Sales> Sales Quote (or Finance Quote), create a new Quote, enter a Customer ID # and then click on the Unit Build button.
The Unit Build window should pop up; enter the Unit Type, Model Year, Manufacturer, Brand, and Model. Now the selection of Motors for that Model should appear; select one.
Notice that there is a checkbox at the bottom right of this grid, in case the Customer wants two motors; see the example below: