CRM: New Configuration to Require a Follow Up Activity
CRM
IDS has created a configuration to require a follow up activity upon creating leads or contacts. It has been requested that an option be available for a Dealership to make the Follow Up Schedule be mandatory for new Leads or Contacts when created in CRM. Sales Configuration # 94 was implemented to allow this option.
This feature only affects G2 CRM Users.
To Set the Mandatory Follow Ups Configuration:
In G2 Admin> Setup> Update Module Configurations, go to the Sales tab and view Configuration # 94: "Can a Lead/ Customer be saved without an open activity (Y/N)".
A blank field or "Y" will allow a User to exit a new Lead or Contact without selecting a Follow Up Schedule when Saving.
Entering "N" after this Configuration will not allow a User to click on Cancel or to Save the New Lead or Contact without first selecting a Follow Up Schedule.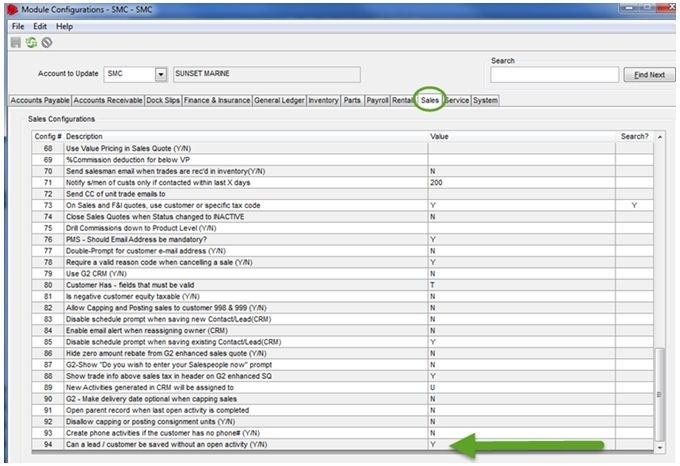 After changing the value for Configuration 94 to "N", the cancel button is unavailable in the Schedule Follow Up popup window in the CRM Leads and Contacts screens – see below: