Admin: New and Improved Payment Windows Throughout G2
Admin
Take payment screens rewritten to improve performance and work better with chargeitpro credit card processing.
A new Take Payments screen has been developed for Parts Sales, Work Order, Accounts Receivable and Customer Deposits, Deal Deposits. This new Take Payments screen is quicker and integrates much more smoothly for our Dealers who use ChargeItPro credit card processing.
In addition, those Parts Sales Payments made with Credit Cards using ChargeItPro can have the payment Receipt (with or without signature) saved and retrieved using the Document Management System.
This enhancement only affects G2 Users.
To See the New Take Payment Screens, users will need to be signed into G2.
The new G2 Take Payment screens are used in those Tasks where payments are taken, such as Sell Parts, Take AR Payments, Update Work Orders, Update Deals, and Take Customer Deposits.
For example, in G2 Parts > Sell Parts, create a new Parts Sales and complete the Parts Sale window and then click on Take Payment or the Save icon on the upper left Task Bar. The new Take Payments window should appear.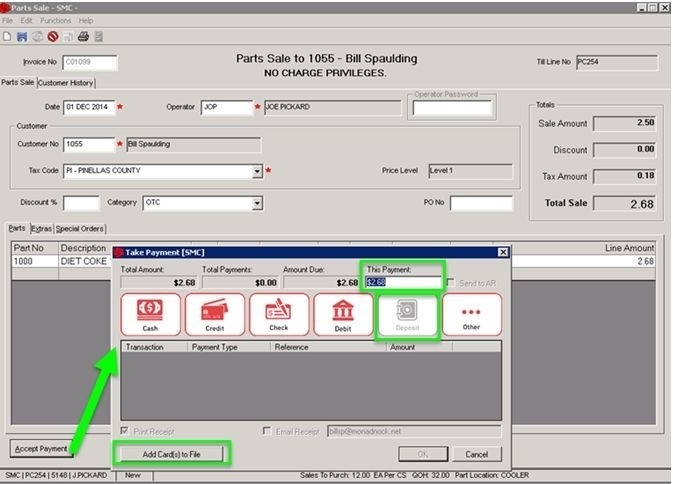 Notice that the "This Payment"amount field can be edited, in case two payment types are made (such as Deposit and Cash). Also, notice in this case, the Deposit box is not active because this Customer has no Deposits in the system.
Also, in the bottom left corner is an Add Card(s) to File button that will associate the credit card number used with the Customer and store this information in ChargeItPro's system, if ChargeItPro is credit card processor set up in G2.
If the Credit option is chosen and ChargeItPro is the credit card processor, a small Credit Sale window appears asking for the credit card to be swiped or it number entered.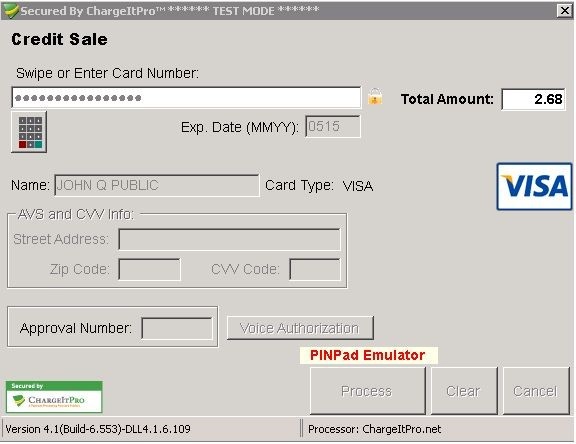 If the Customer is present, it asks for a signature and when it is entered, a window asks if it should be accepted, allowing the cashier to compare the entered signature to the signature on the back of the credit card.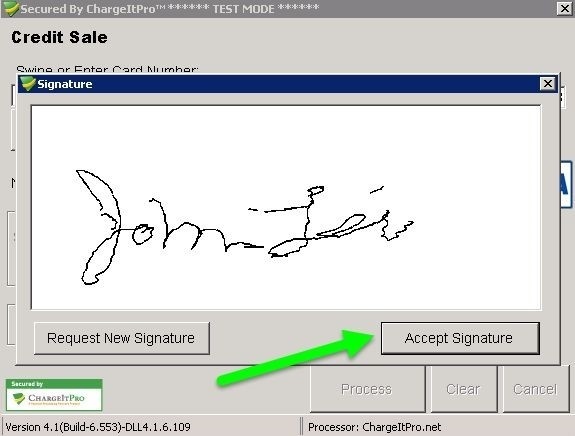 Clicking on the Accept Signature button will submit the payment to ChargeItPro who will then return with an APPROVED or REJECTED decision.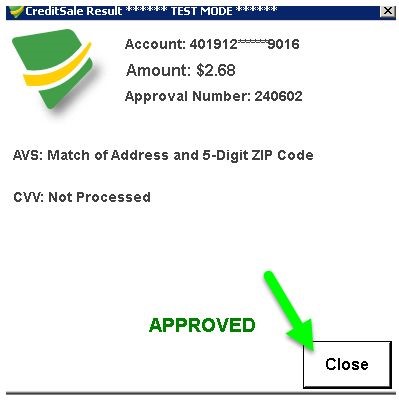 Clicking on the Close button returns the user to the Take Payment screen. Each Payment Type will be listed and an option to reverse the credit card transaction immediately.
Also, notice there is an option to print a receipt and to send a copy of the receipt (in .pdf format) to an email address. These features are available with any payment type chosen.
Payment Types such as Cash, Credit (not using ChargeItPro), Check and Deposit work just as they did in the old version of Take Payments in G2.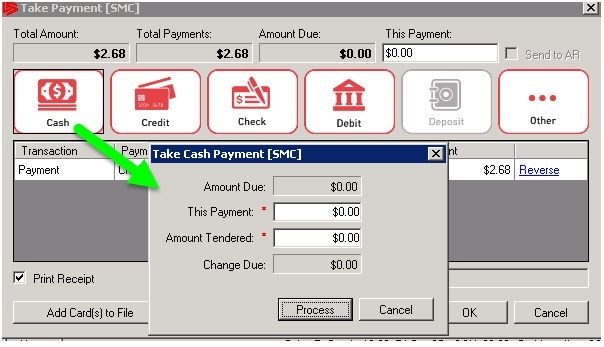 When user left-clicks on the other button, a small Take Other Payment window appears, offering various other Payment Types accepted at this Dealership.