Parts Transfer Approval Process Improvements
Parts
Enhanced parts transfer approval process (tap) between locations.
Several changes were requested and have been implemented for the Parts Transfer Approval Process (TAP): General Ledger transaction are now only created upon receipt, a warning message now prevents Receiving Dates in the future (for periods that have not been opened by Accounting, as this would cause a General Ledger transaction to be created for an invalid fiscal period), and multiple clicks on the buttons can no longer cause the on-hand quantities at each location to be increased or decreased multiple times.
These enhancements only affect G2 Users with multiple locations.
To see these New TAP features, users will log into G2. In G2 Parts> Purchasing> Launch Parts Transfer Approval, and start a Parts transfer to another Location.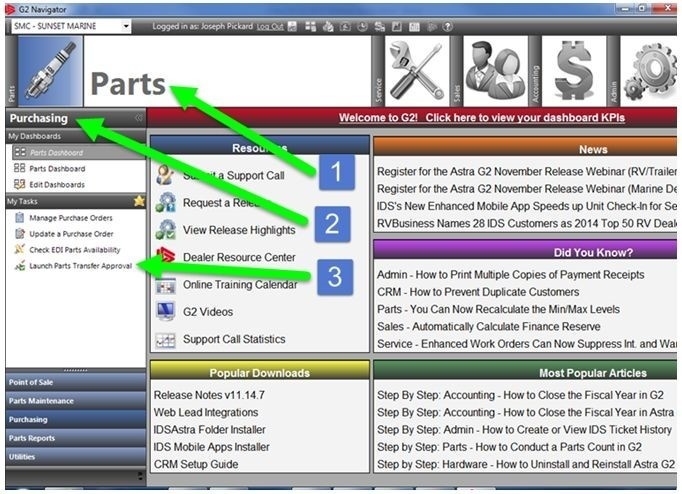 1)      Notice that it is no longer possible to click multiple times on the Cancel, Approve, Ship, or Receive buttons no matter how fast you are; this was causing multiple quantities to be Approved, Shipped and Received in the past.
2)      Also if the dates that fill in automatically with today's date are not in a Fiscal Period (Month) that has been "opened" for accounting purposes, a warning message will display and the process will be halted until a new Fiscal Period has been "opened" by Accounting.