Sales: Creating a New Salesperson Code in G2
Clarification of Creating a New Salesperson Code in G2
To appear in dropdowns (or to be accepted when entered manually) at the Salesperson field in G2, in Update Work Orders, Update Sales Quotes, Update Finance Quotes, Update Deals, and other tasks, the new Salesperson Code must be in the User file. We recommend entering a new Salesperson Code in G2 Admin> Security> New User Wizard on the Salesperson Info tab, which will write the new Code in both the Salesmen file and the User file. This applies only to G2 Users.
To Check Existing Salespeople Codes on Your System:
In G2 Admin> Administer G2> Security> Map Salespeople, look for Salesperson Codes with no User ID. In the example below, the first three people (with green arrows) have departed and it is not necessary to update them.
However, Dana Nolan (DN at the red arrow) is active and needs her User ID inserted, so I double-left click on the line with DN.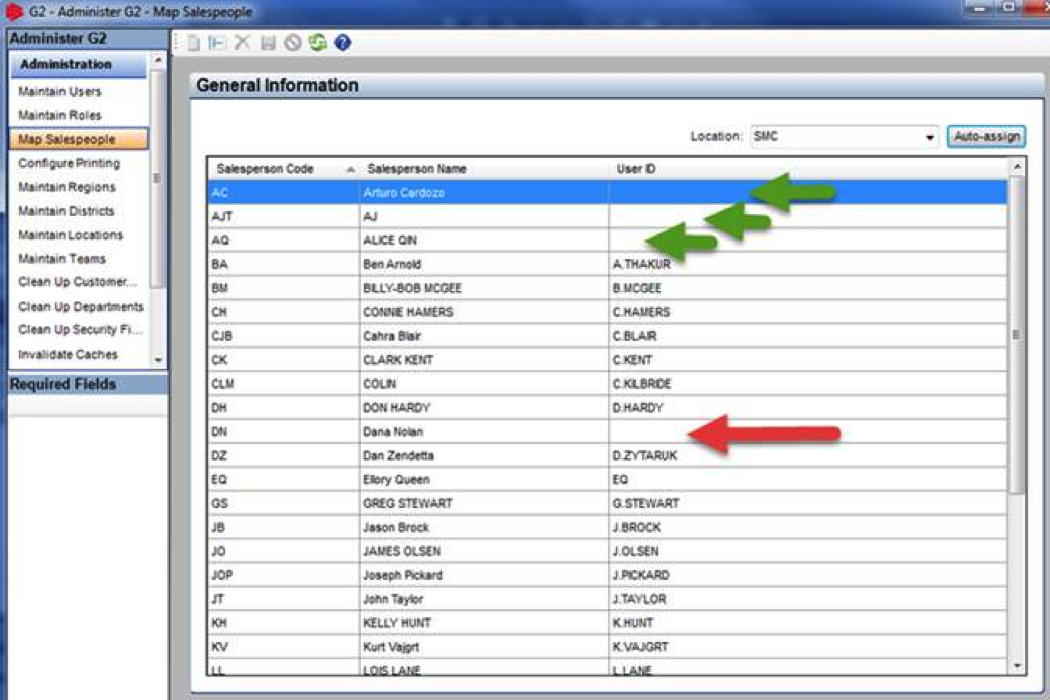 And a small window pops up labeled Assign User ID to Salesperson. Then I enter her User ID (D.NOLAN), and left click on the OK/Done button, and then cleft click on the Save icon on the top task bar of Map Salespeople.
Now DN should appear in all the Salesperson dropdowns in G2.