Sales: New Config to Control Which Finance Payment Options are Displayed
G2 – Sales & Finance
Add Configuration to Control Which Compounding Methods Are Displayed
A new Finance & Insurance Module Configuration was added that controls which Payment Terms are displayed in the Compounding Method Payment Comparison table on the Financing tab in FI Quote in Update Finance Quotes.
This new feature is available only in G2.
In G2 Admin> Setup> Update Modules Configurations, click on the Finance & Insurance tab, and go to new Config #20. The user should be able to enter any combination of *, Y, M, SM, BW, ABW, W, AW (where * or blank = all), separated by commas. In the example below, only M (Monthly), SM (Semi-Monthly) and BW (Bi-Weekly) methods where chosen.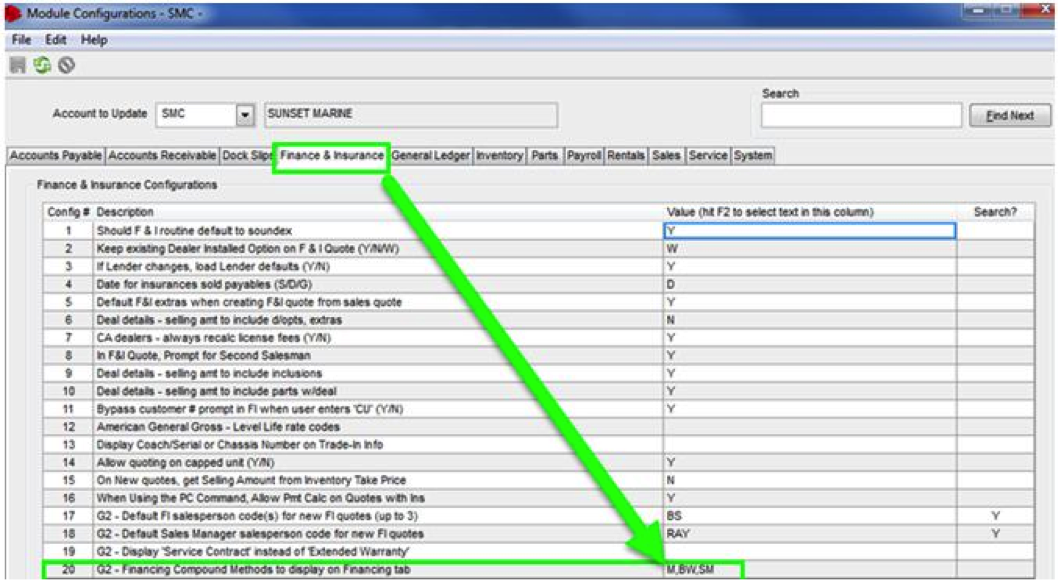 In G2 Sales> Finance> Manage Finance Quotes, select an existing FI Quote with an Inventory Status of A (for Available) and that has financing, then click on it to open that Quote up in Update FI Quotes. On the Financing tab, the User should see only the Payment Terms in the Compounding Method Payment Comparison table that were selected in the Configuration – see the example below where M, BM and BW set in the Module Configurations: