What is the score in your Dealership?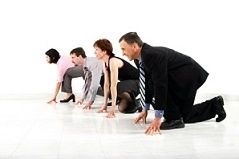 Do your key personnel in your dealership know what the score is, or even what it takes to win?  What I mean is, does your service salesperson or parts salesperson know what level of sales they need to make each month, week, or day?  Do they have a goal for average ticket sale, average labor sale per work order?  If they do, great!  Can they see where they are at daily, weekly, or only once the game is over and last month's P&L is created?
People instinctively want to succeed.  In order to succeed, you will need to know what a win looks like and be able to see the scorecard in your dealership.  When you are out on the golf course, you continually measure your success with "par" and the rest of your foursomes' score.  You know you have had success when you have lowered your total strokes, or have the lowest score in your group.  As you are in the middle of the course, you try to make par or better than par on each hole.  Some you win and some you lose, but you have way to measure your progress at the end of each hole. You can make adjustments along the way.
Let's put this in terms of fixed operations in your dealership.  What are the possible "win scenarios" for your parts and accessories department?  Total sales dollars for the month is a very common one for both the department and individual parts sales personnel.  Other goals that can equate to each hole of the golf course are average daily ticket amount, total department dollar sales for the day or week, and total individual sales dollars.  You will need to establish the parameters for what defines a "Win" and the milestones to achieve the win.  This can be done with the help of your dealer management solution.
Now that the parts personnel know what the "the winning score" is, when do they get to look at the scorecard?  If your personnel cannot see the scorecard till the 19th hole, they have little motivation to improve the score in the middle of the game.  They do not have the opportunity to change their swing on the 3rd hole.  Why should they do anything different if they can't continually see where they are at?  If they don't know where they're at, they don't know to change their swing.
Show your personnel the scoreboard daily or, better yet, up to the minute with the help of your dealer management software.  Tell them what a win is and how it is defined.  Give them some ideas on how to improve their swing.  Ask them for input.  Your personnel are your best and most valuable resource.  Give them the tools to measure and be measured.
Some KPIs (Key Performance Indicators) you can pull from your dealer management system to set measurable goals and boost performance include:
Parts Sales:
Average daily ticket sales by day, week, month, last 7 days, versus last year.
Total department sales by day, week, month.
Total sales by parts & accessories sales person by day, week, month.
Service Sales:
Technician Efficiency.
Work Order Gross Profit by day, month, YTD.
Labor Sales by day, month, YTD.
Unit Sales:
Average Sales volume, gross profit
# Of Deliveries, week, month, YTD
Lead follow up completed per day, week, and month
Lead conversions
Number of Leads
Finance and Insurance:
F&I sales, week, month, YTD
# Of Deals Financed and reserve dollars
Extended Warranty sales, week, month, YTD
On a final note, I am not a golfer.  Please excuse any misstated golfing terms.  A win to me is creel full of trout for dinner!