Wilkins RV on how to properly manage 12,000+ contact list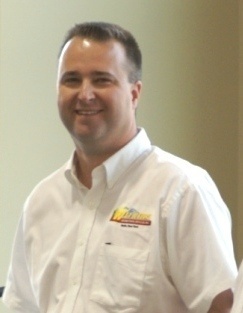 Wilkins RV, a third-generation family owned dealership located in Bath, NY, has a long-standing tradition of providing great service to its customer base.  Having been recognized by RV Business Magazine as a Top 50 dealer, Brian Wilkins and his staff know what it takes to run a successful RV business.  And by utilizing IDS Astra's dealer management features, including Service Scheduler and CRM, Wilkins RV sees unlimited potential for its 12,000-plus contact list.
IDS: Can you tell me about how the business began and what steps you've taken to make it successful?
Brian: "Our dealership has a proud history.  My grandfather started this business in 1936.  My father took over in the late fifties and then sold the business to myself in 2004.  I'd say our customer service sets us apart.  Like any business, we try to provide the right product to our customers at the right price. But at the same time, honesty, fairness, giving them a fair deal and overall taking care of customers makes us who we are.  We're from a small town and we have thousands of customers, we wouldn't be where we are today without taking care of our customers.  We're very committed to that."
IDS: How long have you used IDS's dealer management software, and what prompted you to choose IDS when looking at software systems?
Brian: "We've used IDS since 1995.  I will be honest with you, at the time I was just coming into the business full-time, so the research was done by my older brother and my father.  At that time IDS was, much like they are today, the prominent player.  Fellow dealers that we knew in the industry had IDS.  I honestly don't even know if we even looked at anything else."
IDS: Prior to IDS, how were managing your dealership operations?
Brian: "Paper.  We were manual.  We had a point of sale system which contained our customer mailing list, but that was it.  Work orders and everything else was all done by hand.  IDS is the only system we've ever known."
IDS:  It sounds like you utilize quite a few features in G2.  How long have you used G2 and what challenges in your business prompted you to upgrade?
Brian: "We started with the Service Scheduler about four years ago.  A good service scheduler is something I always wanted.  Up to that point, all the industry knew were manually scheduled operations.  You'd basically have to write schedules down on a calendar.  We tried to get away from that about six years ago with a product called Office Tracker.  The problem with Office Tracker was that it was set in stone.  When you put an appointment down from 11 a.m.-3 p.m. you were locked in and couldn't really change it.  If you know anything about an RV dealership, things change every minute of the day.  So it wasn't a very flexible scheduler.
The Service Scheduler in G2 is definitely more flexible.  The jobs automatically move when a technician runs 15 minutes over.  It automatically moves ahead when they have a job done 15 minutes earlier.  If you delete a job when a customer didn't show, everything moves.
Aside from the Service Scheduler, we use CRM and are still in our migration to G2.  I think after the winter season, we'll basically be comfortable with it and fully switched over."
IDS: In addition to the Service Scheduler, what features in IDS Astra do you benefit from the most?
Brian:  "CRM provides a lot more capability. It's a system that gives us the potential to get to where we want to go.  We've been manually tracking our sales peoples' productivity and CRM gives us the ability to do that electronically.  I like the flexibility with the routine follow-up and what Bronto will provide.  We're not using everything yet to its full potential, but we have a lot of prospects out there and we definitely see the opportunity CRM provides."
IDS: How do you see IDS CRM's email features benefitting your dealership?
Brian:  "We're working on newsletters. In the past we've been inconsistent in creating and sending out e-newsletters.  We spent a lot of money on direct mail, which is obviously very expensive.  E-newsletters cost so much less.  I think people are going to open up an email as quickly as they open a direct mail piece. So I see a lot of opportunity there.
Coming into this year we were doing one e-newsletter per month.  We now average about two per month consistently and we're trying to get to the point where we send one per week.  We're seeing good results out of it.  That's something that Bronto allows us to do more effectively.  Previously we've been using our web provider to help us create e-newsletters.  It can be a little expensive and Bronto is more cost-effective way of creating that."
IDS: How big is your contact base that you send the emails out to?
Brian: "It's right around 12,000."
IDS: That's great!  How do you go about obtaining the email addresses?  Are people pretty willing to give them to you?
Brian: "Yes, I think so.  It's more about getting the sales people in a habit of asking for it."
IDS: What type of information or tips you are offering in your newsletters?
Brian: "Whatever promotion we are running that month. Just the other day we sent one out that was geared around our satellite antennas and satellite dish receivers. We're trying to rotate our newsletters among the departments.  So once a month we will send a sales-related newsletter, once a month we will send a parts-related newsletter, once a month it will be service-related and once a month we will send a letter that will be related to the products that we sell in the business office."
IDS: How does your sales staff like CRM?  Has it been an easy transition? 
Brian: "Salespeople are sometimes hard to change.  The younger generation salespeople like it.  The older generation, that isn't as computer savvy, has been a little slower to catch on.  They like the ability to search when a new vehicle comes in and search for customers that are looking for that vehicle.  They like the ability to follow-up using email versus phone call and the ability to send emails and automatic notifications.  They can see that we got this trailer in yesterday and we've got five or six prospects that are looking for something like that and can easily let them know.  Those are great tools that should help them attract more customers."
IDS: From the management prospective, have you been able to notice any trends with your salespeople?
Brian: "We've got the ability to track their production.  We can track what they're doing on a daily basis, how many phone calls they made, how many emails they sent and can view sales productivity reports."
IDS:  How do you go about keeping your employees trained on IDS?
Brian: "We use a lot of online videos during the winter months.  I go online, check out what videos are scheduled for the next month, sign up for them, forward the information to the appropriate employee and have them attend.  I think that has worked well.  We just need to do more of it.  The online videos are a good, cost-effective way to get the information in front of our people."
IDS: What future goals do you have for your dealership and how will IDS help you achieve them?
Brian: "Our goal is obviously to sell more campers.  What you guys can do is keep developing the product.   I think you've got the right product in G2 that provides us with the right business solutions.  Just keep working on fine-tuning and adding more features.  Continue listening to the customer base and give us what we need."