Become a Dealer Expert at IDS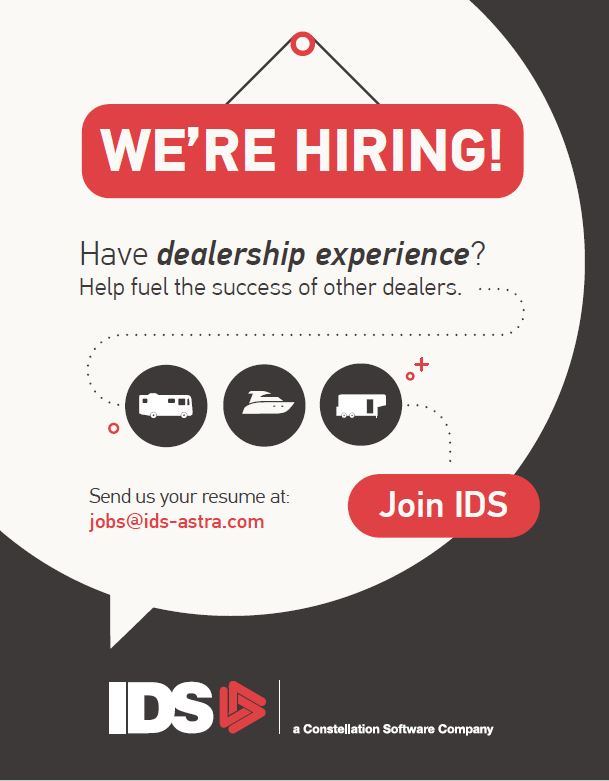 Have you been a part of a successful RV, marine or/and trailer dealership/industry for several years? Do you also have a deep understanding of your industry and dealership processes that you'd like to put to broader use? Then we want to hear from you!
At IDS, we have several roles that can use your unique expertise! Like to travel and train? Be part of the dynamic IDS team that focuses on implementing best practices at dealerships. Like to support? Be part of our Customer Care team that helps all types of dealers from large to small. Love technology? Be part of a team that will liaise with dealers to build new cutting-edge industry-specific solutions for RV, marine and trailer dealers.
These are excellent opportunities for those of you who:
Love helping people
See problems as opportunity for solutions in the industry
Have worked at a dealership, or in the industry, for at least 5+ years
Want to take your current experience and skills to carve out a successful new career
Who are We?
IDS is the fuel that drives RV, marine and trailer dealers forward through industry-specific technologies and expertise. We built an integrated system from the ground up that created a seamless flow of information between all departments in the dealership.
But IDS is not just a dealer management system. It's a team of dedicated professionals with strong industry ties and trusted by dealers for 30+ years.
Perks:
Remote work
Health + dental benefits
Paid vacation
And more!
If any the above applies to you, then don't hesitate to send us your resume at jobs@ids-astra.com.