How USA's #1 Dealer of the Year Uses Actionable Data to Repair RVs Faster

Wake Forest, NC, January 27, 2020 – Integrated Dealer Systems (IDS), a leading RV and marine dealership software provider, is pleased to announce that Crestview RV is using IDS' Repair Event Cycle Time (RECT) reports to uncover new and creative ways to deliver faster repair service within its shops.
With three locations around Austin, Texas, including Buda, Georgetown and Waco, Crestview RV stocks the most sought-after brands – with one of its dealerships covering a whopping 25 acres of land. They are the largest and most modern RV complex in Texas and the surrounding states. Despite this success, Mike Regan, the General Manager of Crestview RV, thinks that his business and the industry at large could benefit from a few improvements – particularly when it comes to service.
We would like to take care of 25% of our customers within one day and have 50% of our customers taken care of within one week," said Regan. "The industry standard has been for customers to drop their unit off at an RV dealership, and it would sit there for a month before it's repaired and ready to get back to them."
As an industry, we need to do better than that. Whether it's the time it takes on the dealer's lot, the time it takes us to order a part, or the time it takes for us to get the part in, we can all work to improve those."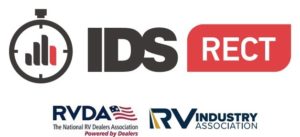 That's where IDS RECT reports become crucial. Generated automatically every month, these reports allow dealers to see their service performance and compare it to that of other dealers in North America (and in their region).
 We have a lot of certified technicians in our large service department," said Regan. "RECT has helped us recognize some of the bottlenecks. 'How long does it take for us to even look at a unit from when it first comes in?' That's on the dealer to figure out. My friend has an expression: 'You have to look in the mirror before you look out the window.' As dealers, we have to look in the mirror and make sure that we're doing everything correctly."
Regan believes that RECT has already had a huge impact on the RV industry.
It put a spotlight on an issue that's been affecting our entire industry," he said. "Now that we know the exact effects of the key service bottlenecks, I'm excited to start working with manufacturers to fix them."
Dealers who want to learn more about Crestview RV and IDS RECT can do so by checking out the dealership's success story right here: www.ids-astra.com/expert-advice/customer-stories/data-repair-event-cycle-time-rv-rect.

About IDS
IDS (Integrated Dealer Systems) is one of the leading providers of complete software solutions for marine, RV and trailer dealerships. With over 10,000 software users in dealerships across North America, IDS has set the standard for quality and customer satisfaction for 30 years.
For more information on IDS and its products, visit: www.ids-astra.com.