IDS's Enhanced Mobile App Speeds up Unit Check-In for Service and Streamlines Communication for RV and Marine Dealers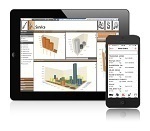 Wake Forest, NC – November 5, 2014 – Integrated Dealer Systems (IDS) has added new functionality to its mobile app designed to significantly streamline service, parts, and inventory operations. The new features provide service writers, technicians, salespeople, and parts managers with the ability to perform key daily tasks and offer quick and efficient communication to customers from anywhere in the dealership.
One of the highlights is the ability for service writers to conduct a 360-degree walk around of a unit with a customer where they can add unit information, add jobs, and take pictures using a mobile device, to properly document any customer wants, needs, questions or concerns. This process also provides the service advisor with an opportunity to identify additional service needs to the customer.
"The concept of checking-in a unit using a mobile app is truly ground breaking," said IDS customer Jeremy Ketelsen of Ketelsen RV. "Any service we can provide to our customers right on the spot, without having to go back and forth to a computer, is a huge plus and gives us an edge over our competition."
In addition to its inventory counting capabilities, which include the ability to conduct both cycle and year end counts directly from a mobile device, the app now provides several imaging features designed to help the parts department document and identify correct parts as well as enable the warranty department to handle claims quickly and more effectively.
"One of the features we like about the mobile app is the ability to take pictures of boats, engines, and parts and attach them to specific jobs and warranty claims," said IDS customer Carly Poole of Buckeye Marine. "This feature allows us to increase the efficiency of our warranty process and gives visual history of a unit or part when it enters the dealership removing any possibility of future discrepancies at the onset."
The IDS Mobile App runs on most Apple and Android devices and will be available with Astra G2 November product release. For more information, call 800-769-7425.

# # #
About Integrated Dealer Systems: Integrated Dealer Systems (IDS) delivers the most comprehensive set of tools for automating RV dealerships in one integrated dealer management system (DMS). From true multi-store enterprise solutions, to affordable cloud solutions, IDS uses nearly 30 years of RV industry knowledge and expertise to offer a single software solution that can meet the needs of any dealership, large or small. Visit www.ids-astra.com for more information.