IDS Releases Dealer Management System Evaluation Guide Designed to Help Dealers Find the Right Software for Their Business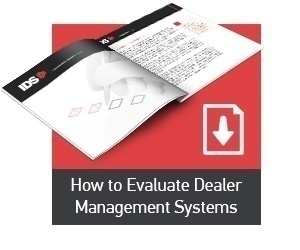 Produced by Integrated Dealers Systems, the How to Evaluate Dealer Management Systems – A Do-it-Yourself Guide is designed to be an un-biased tool in helping RV, Marine, and Trailer dealers find the right dealer management software.
Integrated Dealer Systems (IDS), a leading dealer management software provider, has introduced an un-biased interactive dealer software evaluation guide to help RV, Marine or Trailer dealers that are searching for a dealer management software (DMS) solution. How to Evaluate Dealer Management Systems – A Do-it-Yourself Guide provides general insight into software systems and lists the most important areas a dealer should question when looking for the right DMS.
"Finding the right software for your dealership is a difficult and time consuming task," said Greg Carradus, Sales Manager for IDS.  "In order to help ease some of the pressure off of the dealer and make their search for the right software systems easier, we've worked with dealers to come up with a guide that highlights all of the key areas you should examine when looking at software systems.  By utilizing this guide, dealers will become more educated as to what's most important for their business, and improve their overall sales experience when shopping for systems."
The guide encourages dealers to examine several key areas of business including:
–       Sales
–       Parts
–       Financial Management
–       Service & Warranty Management
–       Purchasing
–       Networking Infrastructure
–       Support and Training
A checklist is provided in each section to help dealers evaluate key elements of their business and areas for improvement. Once completed, dealers can instantly see if there is significant room for improvement, and if they should consider purchasing a new Dealer Management System that would better fit their business needs.
The free guide is available for download at www.ids-astra.com/guide.
# # #
About Integrated Dealer Systems:
Integrated Dealer Systems (IDS) is a leading provider of dealer management software RV, Marine and Trailer industries. In 2009, IDS was acquired by Constellation Software Inc.  As part of the Constellation family, IDS continues to provide the individual attention you expect from a family-oriented, medium-sized company while benefitting from the support and best practice influence of a 180 company/2000+ employee organization.