New Enhancements to IDS Mobile App Empower Technicians and Allow for Payment Processing On-the-Go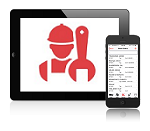 Wake Forest, NC – October 8, 2015 – Integrated Dealer Systems, a leading dealership management software for the RV, Marine and Trailer industries, is introducing new service and parts features for its first-of-kind mobile app. The app, which made its debut in 2014, has evolved to include a number of new features and is an on-the-go companion for the overall dealership software suite. It provides sales, service and parts employees with the ability to perform important daily tasks from anywhere in the dealership.   
Equipped with this industry-leading mobile technology, dealers have been able to conduct quick and easy physical inventory counts and upload them directly into their Astra G2 system. Now, with the introduction of IDS's latest version, dealers can easily conduct a 360 degree walk-around of a unit and benefit from several new technician-focused capabilities. This provides a dealership's employees with the ability to remotely:
check in a unit for service,
add jobs using the voice-to-text feature,
offer additional sales opportunities for service,
clock in and out of work orders,
add labor and comments,
provide cause and correction,
take pictures for files and inter-office communication, and
complete jobs.
Another popular enhancement is the ability to collect credit card payments and customer signatures, as well as email work orders and receipts – all from a mobile device.
"The concept of checking-in a unit using a mobile app is truly ground-breaking. Any service we can provide to our customers right on the spot, without having to go back and forth to a computer, is a huge plus," said Dave Pearo of Hilltop Trailer Sales. "One of the features we like best with the mobile app is the ability to take pictures of RVs, engines, and parts and attach them to specific jobs and warranty claims. In our business, it's important to track these images so you have an ongoing visual history of the unit or part when it enters your dealership. It avoids a lot of headaches down the road."
​        # # #
About Integrated Dealer Systems:
Integrated Dealer Systems (IDS) is a leading provider of dealer management software RV, Marine and Trailer industries. In 2009, IDS was acquired by Constellation Software Inc.  As part of the Constellation family, IDS continues to provide the individual attention you expect from a family-oriented, medium-sized company while benefitting from the support and best practice influence of a 180 company/2000+ employee organization.  Visit www.ids-astra.com for more information.