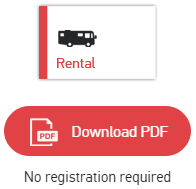 Seamlessly manage every step of your rentals operation from one, easy-to use IDS interface that can be customized for your business needs.
The IDS Rentals solution was built from the ground up to ensure deep integration with IDS Accounting, Service and Inventory, and eliminate double entry for all your employees.
Watch a 4-minute demo to see the rentals solution in action:
The thing I am looking forward to the most is the ability to finally integrate our front end rental system with the rest of the IDS functionality. Up till now, we have had to use an outside system to give us the vision and capability we needed to run our Rental Department. Then we would have to do double entry to get the transaction into the IDS system. 

Now with the new Rental module we have the basic functionality we need which will save time and streamline the department in how it does it's daily business.

Brad Bacon
PleasureLand RV Center
Are you ready to take the next step?
Fill out the request form below to book a personalized demo and receive a quote on the IDS RV Rentals Module.