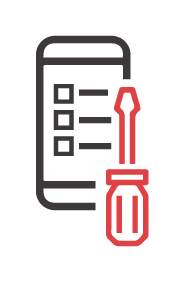 Maximize Your Service Department's Efficiency.
Go Mobile Today.
Would you like your technicians to spend less time running around and more time in their bays turning wrenches?
Then consider IDS Service Mobile – an easy-to-use application that works on most iOS and Android mobile devices. With it, your technicians can gain real-time access to all their work orders from anywhere, ensuring they are never distracted from their work.
With this app, your technicians will be able to:
Instantly attach photos to any work order – from anywhere
Receive and update work orders on the go
Track customer details (like their name, address, etc.) for each work order
Seamlessly sync with IDS Astra to ensure data accuracy
And so much more!
Join our webinar to learn about IDS Service Mobile and see it in a full demo:
When: 2 pm EST on Thursday, April 16th
Duration: 45 minutes + 15 minutes of Q&A
Where: At your desktop!
P.S. Register even if you cannot make it and we will send you the recording.
Empower your service techs to:
Manage Tasks More Effectively

See all work orders on one screen as well as
receive or update work orders on the go.

Track Customers

Access customer details, such as their name,
address and contact info, for each work order.

Instantly Attach Photos

Immediately attach photos (and documents) to any work order to save time and ensure nothing goes missing, even if connectivity is lost.
Track Time
Clock in and out of jobs on the go to ensure all
techs are accountable for the time they put in.
Eliminate Double Entry

Save time on manually re-entering work orders
and eliminate errors.