Explore tools that optimize your service and fixed operations:
A Complete Suite of Tools for Your Service Department
IDS Service360 is our end-to-end service solution that integrates seamlessly with your IDS Astra G2 dealership management system to empower your team to work more effectively and collaboratively, helping you reduce your Repair Event Cycle Time (RECT).
Join us for these live webinar sessions to discover ways to improve your dealership.
Service360

Learn how to reduce RECT and increase profits by reinventing your service department

 

ServiceCRM in Action

Explore how you can empower your service writers on a daily basis in the simplest way

When: 2 pm ET on Thursday, December 3
Duration: 45 minutes + 15 minutes of Q&A

Complete the form below to attend

Contactless Convenience

Discover ways to provide better service while expediting approvals and payments

When: 2 pm ET on Thursday, December 10
Duration: 45 minutes + 15 minutes of Q&A

Complete the form below to attend
Sign up here to join
Use the above navigation to explore each tool. While most of these tools are stand-alone, they are more effective if used together as part of Service360. In addition, having the IDS Astra G2 dealership management system is a must, particularly the Service module.
| | |
| --- | --- |
| Service More Units. Speed Up Your Repair Event Cycle Time. | |
Is your service department suffering from big bottlenecks and inefficiencies? If your numbers look like the ones below, the answer is YES:
| | | | | | | | |
| --- | --- | --- | --- | --- | --- | --- | --- |
| 29+ | days is your average repair event cycle time | | 50% | of your customers wait for repairs longer than 10 days | | 25% | of your customers wait for repairs longer than 36 days |
But, you can fix them!
With our Service CRM, your service writers will close work orders faster, improve customer communications, and ultimately, increase the number of units serviced at your shop each day.
Be more organized by giving service writers a complete view of their daily tasks

Feature: Task Management

Know each customer
by maintaining complete records & notes

Feature: Customer Profile & Service Record

Communicate better with automated follow-up reminders

Feature: Communication Logging

Track all the repairs via status updates from your dealership management system

Feature: Status Update Monitoring

Improve employee collaboration & ensure everyone is on the same page

Feature: Service Notes

Go mobile so service writers can work anywhere, making them more efficient

Feature: Web-Based Technology
Requirements:
Dealers must undergo an eligibility screening to ensure they have the required software prior to launch.
Effortlessly Obtain Customer eSignatures for Work Order Approvals from Anywhere
Did you know that you can empower your customers to sign your work order documents from anywhere at any time?
Thanks to IDS Digital Signatures, you can email documents to customers right from your dealership management system and automatically upload them to a work order document manager the moment they are signed, eliminating any unnecessary steps and creating a more efficient workflow for both your dealership and customer.
Ensure Convenience

Allow customers to sign your work order documents from any device and location.

Be Compliant

Guarantee security, complying with the electronic signature laws in both Canada and the US.

Enjoy a User-Friendly Interface

Set up your documents using a straightforward interface that shows you all the steps.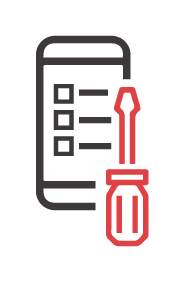 Maximize Your Service Department's Efficiency.
Go Mobile Today.
Would you like your technicians to spend less time running around and more time in their bays turning wrenches?
Then consider IDS Service Mobile, an easy-to-use application that works on most iOS and Android mobile devices, anywhere there is a cellular or Wi-Fi connection – whether it's in your client's or your own driveway, out on the lot or in the great outdoors.
With this app, your technicians will be able to:
Instantly attach photos to any work order – from anywhere
Receive and update work orders on the go
Track customer details (like their name, address, etc.) for each work order
Seamlessly sync with IDS Astra to ensure data accuracy
And so much more!
Watch this Video to Learn More
Empower your service techs to:
Manage Tasks More Effectively

View all work orders on one screen, update their statuses as well as create new custom or canned jobs.

Speed up Work Order Approvals

Easily acquire customer work order approvals via built-in e-signature capture.

Process Payments, Anywhere

Accept credit card payments through a mobile device anywhere, anytime, using ChargeItPro.
Take Photos

Capture multiple photos and immediately attach them to related work orders or jobs to save time.

Track Time

Clock in or out of scheduled jobs to accurately measure budgeted versus actual time.

Eliminate Errors

Save time on manually re-entering work orders and increase their accuracy.


What Dealers Say About IDS Service Mobile
IDS Service Mobile has been a great tool for us as we strive to provide greater service to our customers. Our advisor team utilizes the app to check in our customers, document their concerns, and attach photos to the repair order. The technicians use it as their primary desktop which gives them access to the advisor's photos while working on the coach, and limits the back and forth from workstations to input information. This has led to an increase in efficiency as well as clearer communication of concerns and repairs. Our warranty team then uses the technician supplied photos from the repair order and sends them to vendors during the claims process. Partner all that with IDS commitment to continued development and their utilizing of dealership feedback for improvement and you have a recipe for success."

Anthony Frandanisa from Tacoma RV Center
Available for iOS and Android
Access Work Order Information from Anywhere
Would you like to unchain your service writers from their workstations?
With IDS Web Work Orders, your service writers can access real-time insights and intelligence from any device with an internet connection and make their decisions on the go.
Monitor Various Activities

Track all open service items no matter where you are via an intuitive user interface that's easy to pick up and learn.

Integrate with ServiceCRM

Seamlessly integrate with ServiceCRM to instantly access customer and work order information as well as drill down to specifics.
Accept Customer Payments from Anywhere
Did you know that your customers can pay you from anywhere, without ever coming into your dealership? It's all possible with IDS Mobile Payments, powered by Gravity Payments.
Email or Text Payment Requests

Send payment requests to your customers by text or email right from the work order in your dealership management system.

Sync with Accounts Payable

Automatically post payments to the Accounts Payable module in your dealership management system once they are processed.
Identify Key Bottlenecks with the IDS RECT Report

Looking for a way to optimize your Repair Event Cycle Time (RECT)? Find out how IDS RECT Reporting can help you pinpoint your biggest bottlenecks and provide you with a clear path toward improvements. IDS worked closely with RVDA and RVIA to develop the RECT standards.

With IDS RECT Reporting you are provided a free, monthly report pinpointing the main bottlenecks in your repair event cycle and, in an anonymous and aggregate format, comparing your results to that of other dealers across the country and in your region.

NEW! RECT Brand Comparison Report:

Using our new RECT (Repair Event Cycle Time) Brand Comparison Report, you can compare unit repair key performance indicators (KPIs), side by side, for your top 5 RV brands in North America and see exactly how you stack up.
Watch this Video to Learn More

See what others say about IDS RECT
We use the IDS RECT report on a monthly basis to spot our shortcomings and improve the service we are providing to our customers. The IDS RECT report has helped our industry by giving us real data, so we can all work together to solve our customers' frustration of not having their RV repaired in a timely fashion."

Mike Reagan, Crestview RV
I think the biggest thing the reports have provided for us is a conversation starter. They provide us with a basis for discussing RECT at our monthly admin meetings. It has gotten staff to begin thinking on this topic at a higher level, and hopefully, it will result in us providing our customers with a better experience."

Brian Wilkins, Wilkins RV
Why You Need IDS RECT

   

See the Whole Picture

Get a high-level look at your overall RECT performance to ensure you know where you stand.

Analyze Each Bottleneck

Understand the impact of parts availability and warranty coverage on your repair time.

Zoom in on the Details

Drill down to specifics, including individual work orders, part numbers and labor hours.

Visualize Your Data

Review historical data via numerous charts and graphs to spot trends and aide forecasting.