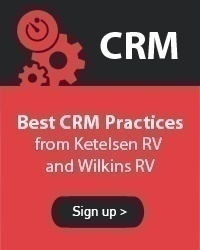 Join us for a free webinar where two successful dealers will share with you best practices for leveraging a CRM solution and how it can help grow your dealership.
No matter which CRM program you are currently using – you'll pick up a lot of tips and tricks on how to delight customers, improve customer service and get the most out of your CRM.
When: 1pm ET on Tuesday, March 3rd

You will learn:
The best way to overcome sales rep's resistance in using a CRM system.
The secret to being persistent, consistent and relevant in your customer communications.
How to properly maintain data in your CRM.
 
 
 

Chuck Marzahn
Dealership Expert
Host

Jeremy Ketelsen
Ketelsen RV
Panelist

Brian Wilkins
Wilkins RV
Panelist