How the Second-Oldest RV Dealership in the US Builds Lasting Relationships with Customers

Charles Darwin said that the species "most responsive to change" is the most likely to survive. For Ray Citte RV in Northern Utah, staying in business for 70 years is all about changing with the times and enjoying life. By recognizing the needs of the community, the dealership has continued to adapt and grow, becoming the oldest RV dealership in Utah and the second-oldest in the United States.
The dealership was founded in 1946 by Ray Citte. It was primarily a car dealership specializing in dependable cars under $2,000 – until Ray Citte added trailers in the 1970's. In 2000, the dealership moved to a new location, next to the I-15 freeway, gaining better exposure. At that time, Ray and his son Neil decided to specialize strictly on trailer sales and dropped cars from their inventory entirely.
Neil Citte is now the owner, and it is still a family business. The dealership is known for outstanding service, focused on listening to customers and providing a positive purchasing experience. Ray Citte RV extends that experience digitally, by eliciting feedback online, providing fun social media interactions and communicating through texting and e-mail.
Chad Citte, Ray's grandson, takes care of Marketing and IT. In this diverse role, he wears many hats – from technology to social media, to commercials for the dealership. We sat down with Chad to learn how Ray Citte RV builds lasting customer relationships, both digitally and in real life.
What would you say sets your dealership apart from similar businesses?
Chad: "One way that we set ourselves apart from the competition is our attention to detail and our focus on the local people that we serve. There are some large dealerships out there that cover the whole nation, and we're not trying to be like that. Instead, we strive to give great service to those in our community and create a good one-to-one feel."
How do you ensure your products and services meet the needs of your customers?
Chad: "A lot of it is listening to them and making sure that we are collaborating. We have a lot of systems in place to get feedback from them and communicate with them through texting and the IDS system. It's integrating a lot of those interactions, so that we can stay connected with our customers and keep track of what's going on throughout their experience with us."
What would you say is the hardest part of your job?
Chad: "The challenging part is learning and staying on top of the newest, latest and greatest stuff out there, especially with marketing. Marketing is changing all the time, so the thing that's hot today will be dead tomorrow. So, the hardest thing is staying on top and making sure that you're doing the most effective marketing activities possible."
When did you implement IDS, and what was the initial reason for getting it?
Chad:  "We've had IDS for about four years. We started shopping and looking for multiple systems and IDS seemed to cover most of the things that we wanted to do."
How would you say IDS compares to what you had before?
Chad: "It's a lot better than our former vendor. The one we had before was a blue-screen type of system, which is kind of hard to use. IDS, on the other hand, has a nice Graphical User Interface."
What are your thoughts on the training that IDS provides?
Chad: "I've seen a lot of webinars online, but the ones from IDS seem really well put-together. You can tell that a lot of effort went into the Microsoft PowerPoints© and in the information that they give us.
They provide USB drives, so we don't have to madly take notes; all the information that we need is there. There are always changes and updates with IDS, so any kind of training that we can get helps out quite a bit."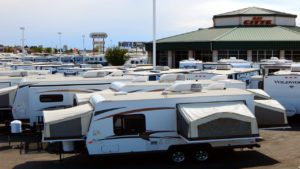 What are some of the must-haves when it comes to a system like IDS?
Chad: "The must-haves are CRM, and integration with Parts, Service and Warranty. IDS covers all of those bases.
There is also service for the technicians. We provide each of our technicians with a tablet so that they can work off of that. For example, they can go into a job, take pictures of whatever they're doing, and send that information into IDS. So, it's been really efficient as far as helping our technicians get their jobs done."
Which IDS functionality or module helps you with your job the most?
Chad: "CRM, for me, would be the most important one. Integrating our customer touch-points and communicating with them through email, including automated ones, has been great. That helps keep them informed about what's going on.
Additionally, there is inventory management. With marketing, you are also involved with a lot of the web store prices and similar tasks. Keeping that straight is important."
How much has IDS contributed to the overall success of your dealership?
Chad: "It's helped a lot because our previous software would crash, or they would have downtime due to some sort of problem. There's no time for downtime in our dealership. If you're trying to do some paperwork and your system crashes for your finance guy that wastes his time.
Even worse, if someone's trying to buy something and your system crashes, then they're just standing there waiting for you to get things back up and running. People want that service right now, so you can't have that happen."
How has IDS changed your professional life?
Chad: "One of the things that I've had to learn with IDS is the big picture. I get to help my family business with the integration of the different parts of the dealership. I've learned a lot of that, so that I can help in other areas of the business. "
Microsoft PowerPoint is a trademark of the Microsoft corporation.