Interview with ArrKann Trailer and RV Centre on Being Ranked a Top 5 North American RV Dealer in a Highly Competitive RV Market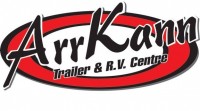 The RV market can be a competitive one, especially in the Edmonton and Calgary, Alberta areas. With such a high concentration of RV dealerships, it's essential to set yourself apart from the competition and ArrKann RV Trailer and RV Centre has done just that.
With 40 years in business and three locations, ArrKann has been a staple in the area. Known for its family-atmosphere and superior customer service, the dealership continues to receive high accolades including a Top 5 rating by RV Business.
We spoke with General Manager Sarah Baptiste to discuss their business success.
Tell us about your role in the dealership.
Sarah: "I've been in the dealership since I was a little girl. It's always been a family owned business beginning with my grandfather and then father and uncle. I worked here throughout high school and when I got my degree I joined the business as a parts manager. While I was doing that, I got my certified management accounting designation and moved into accounting and from there I've worked my way up to general manager."
You've been voted one of the Top 5 RV dealers in North America by RVBusiness and have managed to do so in an area where there are several competing RV dealerships. How do you stand out from the other dealers in your area?
Sarah: "That's an interesting question. It's not one big thing we do, it's a lot of little things. Like many dealerships, our focus is on customer service and retention. We work very hard on our culture and I think you can really feel that throughout the dealership. This is a family dealership and we make it a point to treat our customers and employees like people and not numbers. We have a lot of customers that come here and know everyone by name; they like to hang out because they know the people. We invest our time into our staff and it, in turn, pays off in our customer service."
What can someone who has never been in your dealership expect when they walk into your business?
Sarah: "They can expected to be greeted right away. It sounds silly, but we have a 6-foot rule so if anyone is within 6 feet of a customer they must say hi and see if they need help with anything. Once they come in we're going to take some time, determine what their needs are, and direct them to the right department. If they are a first-time RV buyer, our sales staff is going to sit down with them and do a guest survey to learn about their wants and needs, and what they are using to tow. That way they can match them up with the perfect trailer that will meet their needs. We will show them 3 options based on their criteria and they can go from there.
Once they buy, we have a comprehensive delivery process. When a customer's trailer comes in, we have demo technicians do our orientations, not the sales staff. We feel that the tech's job is to show the customer how to use the trailer that they are buying. This process can take 1 1/2 to 3 hours. The tech shows them how to use everything properly and can establish a relationship with the customer." 
How do you promote your business?
Sarah: "We do a lot of radio advertising. Our tagline is 'we're closed on Sundays and we think you should be too.' It's not as much of a tagline as it is a lifestyle philosophy because we truly believe that. When we talked with our marketing people, we mentioned that we like to be off on Sundays so our staff can take some time to camp and enjoy the outdoors and it really resonates with our customers. We also do quite a bit of online advertising through Google Adwords and Facebook."
You have a section on your website dedicated to the Keep Kids Camping program. How did that program start and what is the involvement with you and your staff?
Sarah: "It's an exciting program. We have a board of advisors and one day we were talking about our corporate responsibility and what we do to give back to the community. We realized we lacked some consistency on what we were doing and where we were targeting our giving. So we put together a Keep Kids Camping committee that is made up of volunteer staff members. We review requests for donations and we allocate where we see fit. It's not just one person reviewing everything, it's a true group decision. 
We also have a community events trailer that we donate to pretty much anyone working for a non-profit organization. It's been in numerous cancer runs, it goes to a few festivals, it goes to a lot of different baseball tournaments. Pretty much if you're a not-for-profit organization and the trailer is available, we will donate it to you for use."
You've talked a lot about your employees. How do you go about hiring the right staff fits the mold of your dealership's values? 
Sarah: "We recently changed our philosophy. We want those who are experienced but more important, those who hold values similar to our own. We're going to ask questions about what they've done in the past and hopefully we can gauge what type of person they are and if they fit in our culture."  
On the business side, having the right dealer management system also contributes to success. What led you to choosing IDS as your dealer management system?
Sarah: "We purchased IDS in 2009. The main reason that led us to choosing the product was the fact we looked around at a number of successful dealerships and we found that the thing they had most in common was they were using IDS. Our business has three locations and providing a solution with multiple location capabilities isn't something a lot of your competitors do very well. We felt IDS was best in class in that aspect." 
What features in the system have helped you the most?  
Sarah: "It depends who you ask because there are so many. The integration across our three locations is definitely important as well as the integration across departments. Each department doesn't have to enter the same information repeatedly, it's all there in the system.
IDS has helped improve our tech efficiency and we have real metrics by having them clock in and out of jobs. Automating that in the software has helped make us so much more accurate.
We also like the integration with accounting and the ability to drill down in reports and screens. When I post a deal and have a question, I can easily go back and locate the unit I'm looking at. It saves me tons of time from having to look through file cabinets." 
What does the future hold for ArrKann Trailer and RV Centre? 
Sarah: "We're in the process of building a new dealership in Calgary and our employees are very excited for it. IDS will allow us to bring it on seamlessly and has enough tools in it to monitor the business from another city so we're excited to see how that progresses."