The Most Important Service Writer Skills & Responsibilities

Hiring the right Service Writer (or Service Advisor) can be tricky, given how sensitive their job is. After all, they are in contact with your customers more than anyone else, and it's their responsibility to ensure that your customers' equipment servicing needs are properly looked after.
It's an important job, and if mishandled, it can have serious consequences for your dealership, including fewer customers and lower revenue. On the flip side, a great Service Writer can drastically improve your dealership's customer relations and overall profitability.
In this guide, we'll share important service writer skills, responsibilities, and best practices to help you hire the right people and identify areas for improvement on your team.
Click to jump to each section:
Who are Service Writers/Service Advisors?
What are the Key Service Responsibilities of a Writer/Advisor?
What are the Qualifications Needed of a Service Writer?
Important Service Writer Skills
What is a Service Writer/Service Advisor at a Dealership and What Do They Do? (Definition)
Service Writers (also known as Service Advisors) are essential to your Service Department. They are responsible for keeping a lot of essential dealership service processes moving along.
A Service Writer acts as the liaison between your dealership's customers and your service team. They are responsible for understanding customers' needs and communicating them to your service technicians/mechanics. Service Writers are also responsible for setting expectations with the customer on costs, time estimates, and warranties.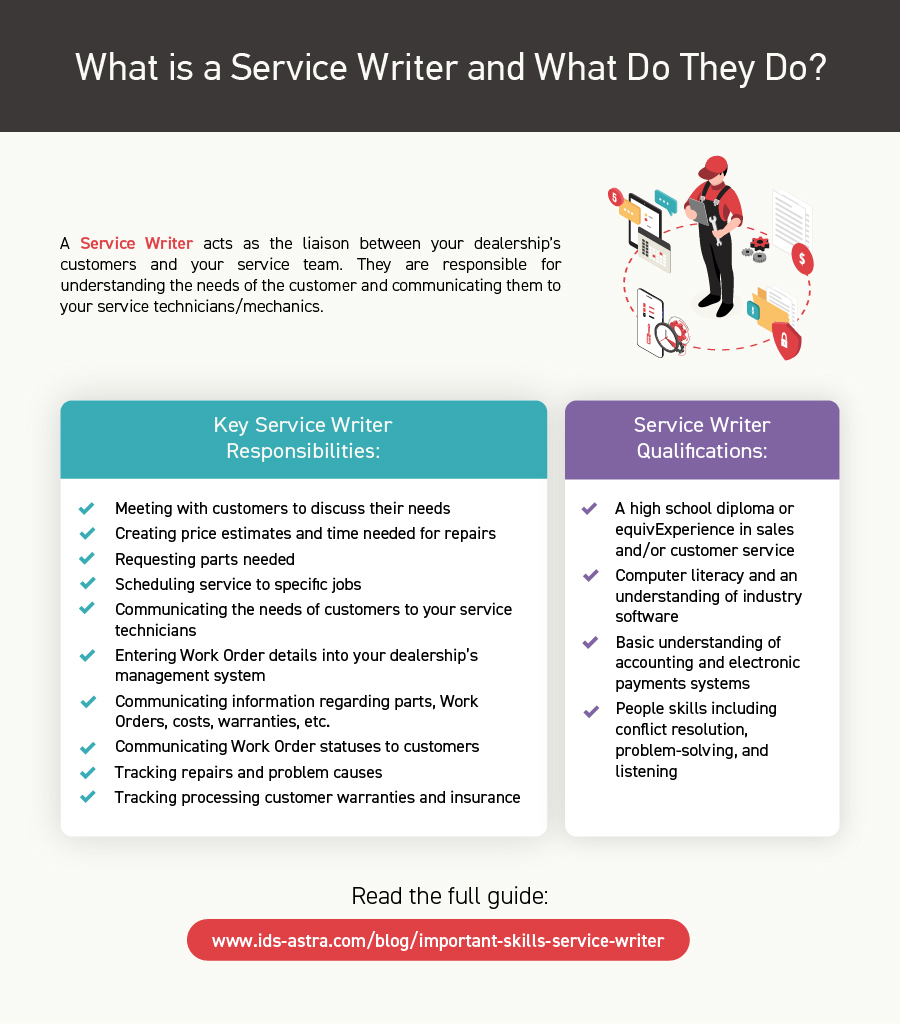 What Are the Responsibilities of a Service Writer/Service Advisor?
Meeting with customers to discuss their needs
Creating price estimates and time needed for repairs
Requesting parts needed
Scheduling service to specific jobs
Communicating the needs of customers to your service technicians
Entering Work Order details into your dealership's management system
Communicating information regarding parts, Work Orders, costs, warranties, time, etc.
Communicating Work Order statuses to customers and relaying any additional work needed and associated costs
Tracking repairs and problem causes
Tracking and processing customer warranties and insurance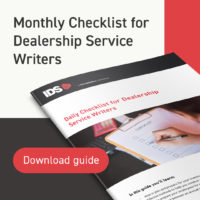 Download Here
What Are the Qualifications Needed of a Service Writer/Service Advisor?
While the qualifications of a Service Writer will vary somewhat depending on the industry, in general, they require:
A high school diploma or equivalent
Experience in sales and/or customer service
Computer literacy and an understanding of industry software
Basic understanding of accounting and electronic payments systems
People skills including conflict resolution, problem-solving, and listening
Let's dive deeper into important skills required to be a Service Writer.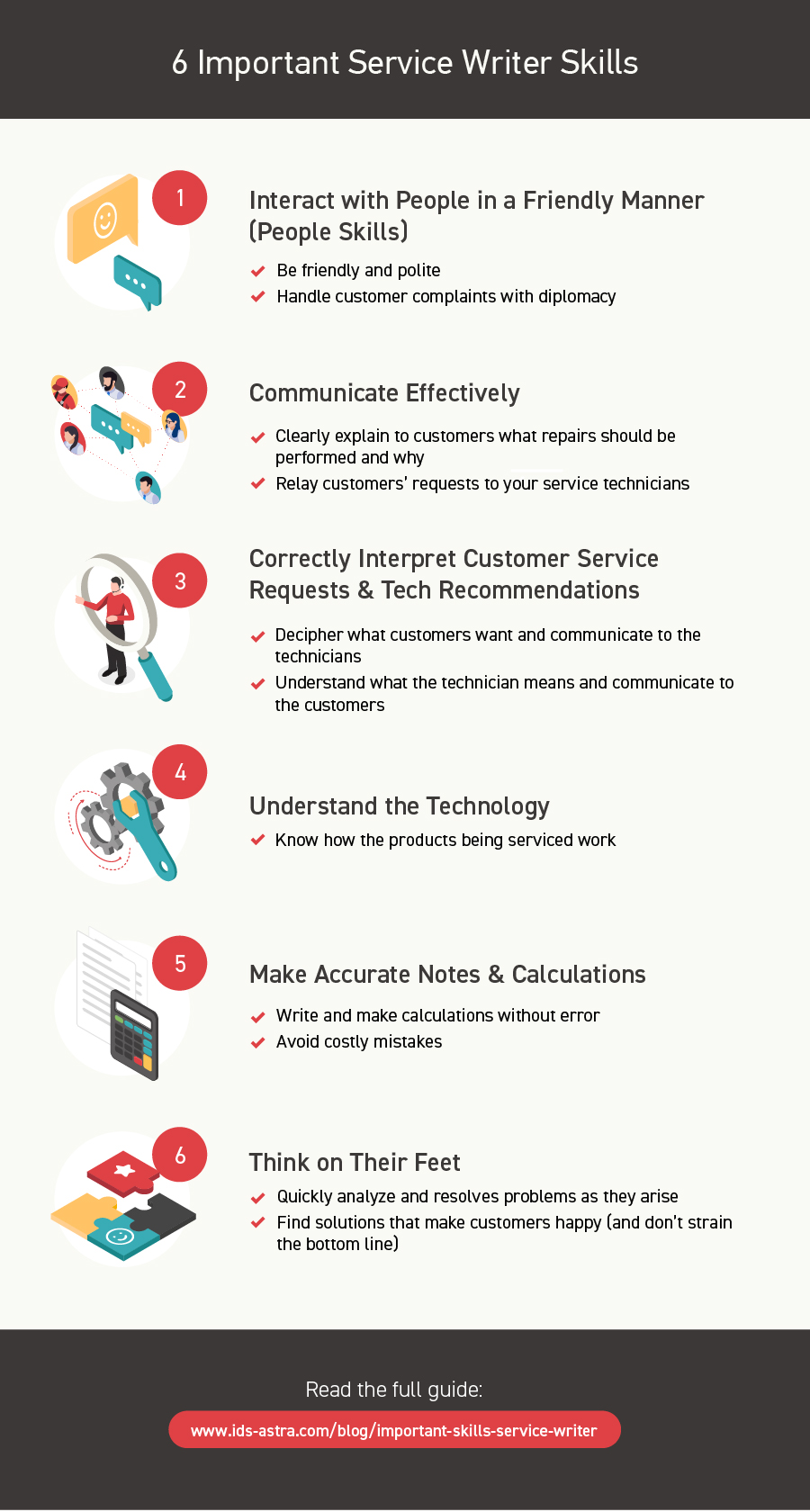 Important Skills Of Service Writers
1. Interact with People in a Friendly Manner (People Skills)
Your Service Writer deals with people on a regular basis – from taking customer bookings and providing them with estimates to interacting with suppliers. Someone who is unable to be friendly and polite during those proceedings situations can easily drive customers away.
In addition, a Service Writer may also have to handle customer complaints, which requires a certain level of diplomacy. Given how delicate such situations can be, you don't want someone who's either too irritable or shy to be involved in them.
For best results, try to find someone who enjoys talking to people and solving problems. This will make all the difference to your dealership's customer experience.
2. Communicate Effectively
One of the key responsibilities of a Service Writer/Service Advisor is to effectively communicate customer needs to service technicians. First and foremost, they must be able to clearly explain to your customers what repairs should be performed and why – without confusing them.
Secondly, they must also be able to relay customers' requests to your service technicians (using tools like ServiceCRM), without confusing them either, while managing their repair schedules.
So, it's not enough for a Service Writer to just be friendly – they must also be able to clearly convey vital information to everyone involved.
Read Next: How to Automate Your Service Department Workflow
3. Correctly Interpret Customer Service Requests & Tech Recommendations
To ensure your techs know what to do and to meet your customers' service expectations, your Service Writer must be very good at understanding everything they say.
Often, customers don't know exactly what kind of repairs they may need. It's the Service Writer's job to "decipher" what they want and then write it all down.  This relates directly to having great communication skills, since the process involves asking a lot of questions, many of which cannot be scripted, to ensure clarity.
But customers are only half the equation. Your techs have recommendations of their own, so being able to understand what they mean and then communicate it all to the customer is equally important.
If your Service Writer is unable to understand what is needed, they can end up miscommunicating that information and reflect negatively on the dealership.
4. Understand the Technology
Being great at understanding people will do your Service Writer no good if they don't understand the technology they're servicing. Whether they are interacting with your techs, ordering parts, or looking at complex tech documents, they need to know how your products work if they want to truly be helpful.  Otherwise,  how can they ensure that your techs know what to do?
Read Next: How an Award-Winning RV Dealership Has Strengthened Customer Relationships by Streamlining Their Service Department
5. Make Accurate Notes & Calculations
Service Writers have to do a lot of writing and math, so if they're not good at forming legible sentences or making correct calculations, they can cause blunders and slow down your dealership's services. After all, a Service Writer is not just responsible for talking to customers and service technicians, but also for ordering parts, sending out invoices, and taking inventory. As you probably already know, making mistakes in those areas can be costly.
6. Think on Their Feet
There are a lot of different variables involved in servicing equipment – from meeting customer expectations to ordering the right parts – which means that there are plenty of opportunities for things to go wrong. Parts may arrive late, techs may run behind schedule, or your customers may simply change their minds.
When something inevitably doesn't go according to plan, your Service Writer must be able to quickly resolve the problem. They have to be able to analyze it and then come up with a solution that makes the customer happy and doesn't strain your bottom line.
Training For A Service Writer/Service Advisor
As the industry progresses and new trends emerge, it's important that your service team stays sharp. Enrolling your Service Writer in certification courses like those offered through the RVDA Learning Center will ensure your team brushes up on industry best practices.
It's also important for your Service Writers to be trained on how to use your dealership management system effectively. Learn what training is offered by your DMS provider and sign your Service Writers up for relevant training sessions to help keep their skillset and knowledge up to date.
Visit here to learn about the online and in-person training services offered by IDS.