How to Build a Marketing Strategy for the Next Generation of RV Customers

The RV market is changing – Millennials and Gen Z are entering the market in droves both as customers and dealership personnel. They make up the next generation of RV customers. According to a 2020 RVIA study, 22% of RV owners were between the ages of 18 and 34. Another study led by Go RVing also found that 84% of people in that age group are planning to buy an RV in the next five years.
Even before the pandemic, the RV industry was experiencing substantial growth but it's becoming abundantly clear that younger generations are becoming more and more interested in RVs and trailers. In this blog, we'll demystify Millennials and Gen Z, give you the scoop on what this group of buyers are interested in, and show you how to build a market strategy that effectively caters to them.
Watch this video where Kseniya Savelyeva, Chief Marketing Officer at IDS, and Sara McGuire, Content Marketing Manager at IDS, share their insights into how you can market to the next generation of RV-ers:
Click to jump to each section:
What are Some Millennial Values?
What is the Next Generation of RV Customers Looking For?
How to Build a Marketing Strategy for the Next Generation of RV Customers
Who are Millennials?

The term Millennials refers to the generation of people born roughly between the 1980s and mid-1990s. This generation came of age during the financial crisis of 2007-2008. They faced difficulties entering the workforce for the first time, being financially stable, and affording the kinds of things their parents had.
This generation also grew up alongside the growth of the internet and the popularity of mobile phones. However, they still remember a time without them and before widespread advertising on mobile phones.
What are Some Millennial Values?
There are some common values among Millennials that are helpful to point out to better understand how to appeal to this generation. As the next generation of RV buyers, having a deeper understanding of their values will put you in a better position of anticipating their needs and expectations so you can proactively take steps to build an effective market strategy and great customer experience.
Connections are Important to Them
Millennials are more likely to value open and frequent communication from brands that try to connect with them as opposed to just marketing to them. In part, this is because they are hyperconnected and always online, switching from one device or social platform to another. However, it's also because their buying cycle is not linear and has an endless number of touchpoints.
They are More Conscientious Consumers
Millennials want to find meaning and purpose in life. This means that they are more likely to support brands that can help them achieve that. They're also more conscientious consumers because they like to do their research and price shop to find the best price for quality products on the market. Although they can be price-sensitive, quality is ultimately most important to them.
Since your website will most likely be the first point of contact for them, having a digital storefront for your dealership is essential in today's market.
Communication is Key
Millennials are also the tell-all generation. In other words, if your business does something to make a millennial customer happy, they're more likely to tell their friends, family, and anyone who will listen to them about their experience. Referrals and the recommendations of friends and family matter significantly to this generation. They'll defer to the opinions of their close ones more than traditional advertising.
They also value advertising that is honest, authentic, and non-biased – especially on social media. This means that fixing potential communication gaps at your dealership is essential to respond to Millennials' needs.
Read Next: How to Define a Customer Experience Strategy at Your Dealership
Who are Zoomers?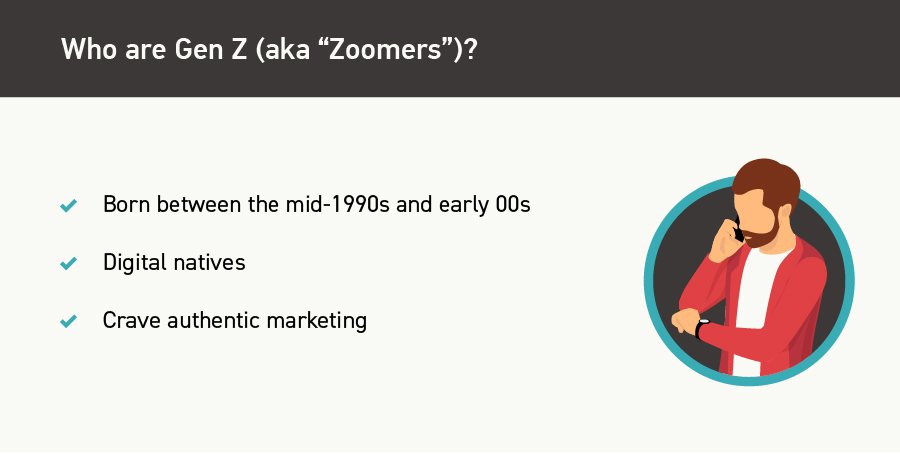 Generation Z (colloquially known as Gen Z-ers or Zoomers) are the newest generation to have entered the RV market. This group was born between roughly the mid-1990s through the early 00s. There are some similarities with Millennials but some crucial differences as well.
Gen Z is a crowd of "digital natives." They are accustomed to using the internet in a time when user-generated content is all the rage. Most of the content they consume is created by their peers, so they crave authentic marketing.
What are Some Zoomer Values?
Truth Seekers
This is a generation that has easy and quick access to information at their fingertips. They like to "fact-check" and search for the truth in the stories they're being told – and sold. This makes them pragmatic consumers since they're interested in businesses that align with their identity, values, and ethics.
Individuality
Growing up alongside several social media platforms have made this generation extremely savvy when it comes to cultivating their public and private personas. Because they value individual expression, they'll have social media accounts that are "on brand" and dedicated to building their personal brand. They'll also have another account for sharing their unfiltered day-to-day activities.
Quick Mobilization
Gen Z can also mobilize themselves quickly online to get behind a variety of causes important to them. This next generation of RV customers believes profoundly in the ability of dialogue to resolve conflicts and improve the world they live in.
Read Next: 4 Steps to Creating an Effective Customer Experience for Millennials and Gen Z
What is the Next Generation of RV Customers Looking For?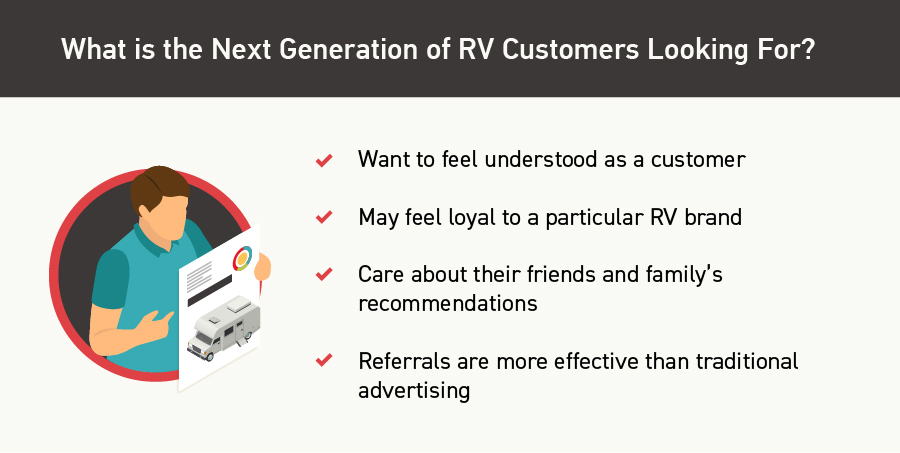 Both Millennials and Gen Z are brand-loyal. This means they'll stick with an RV brand or a dealership if they feel understood as a customer. The way to do that is by building relationships with them. The next generation of RV customers may also feel loyal to a particular RV brand because it's what their parents bought.
This crowd also cares a lot about the recommendations of their friends and families, so they're more likely to trust referrals than traditional advertising. They'll put in the time to do their own research and find social proof online through reviews and ratings. As a dealer, it's important to know how to build your market strategy around brand loyalty and position yourself in a way that will appeal to the next generation of RV customers that goes above customer service but a full-on customer experience.
Market with Them, Not to Them
Millennials and Gen Z are committed to the RV lifestyle and feel a strong sense of community among other RV owners. In fact, according to an RVIA study, as many as 84% of current Millennial and Gen Z owners intend to buy another RV in the next 5 years. Now, with digital tools like social media, your business can be the first point of contact for this next generation of RV customers.
By aligning your brand with their values and vision, you can attract them early on. If they're already knowledgeable about RVing, for example if their parents own an RV, then there's an opportunity for you to show them how you can help them achieve what their parents have.
But first – you need to sell them on the idea of an RV. Show them what the RV lifestyle is like and what they can do with an RV, like working remote or travelling. Tell them about the people they'll meet along the way and the community they'll belong to. Show them how they can live and travel sustainably leaving a small carbon footprint wherever they go.
Read Next: 15 Tips for Meeting Customer Service Expectations from RV Industry Experts
How to Build a Marketing Strategy for the Next Generation of RV Customers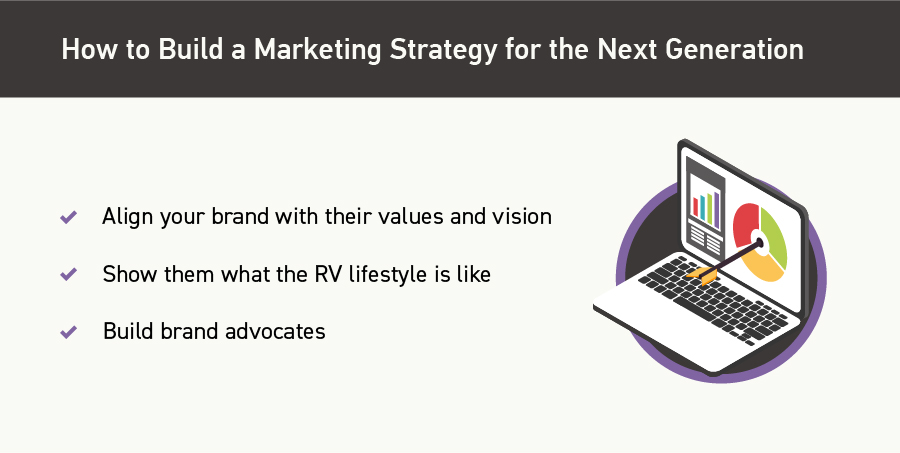 Your business shouldn't be looking to create customers but brand advocates.
Brand advocates will enthusiastically talk about how much they value your business. They'll also leave positive reviews on your social media and product pages. Most importantly, they'll recommend you to friends and family.
The great thing about brand advocates is that if your business has built a relationship with them, then they'll do a lot of the marketing for you. If other dealers are selling the same manufacturer, then brand loyalty will set your dealership apart from others.
Start the conversation with the next generation of RV customers. Don't just market to Millennials and Gen Z, but market with them. You can measure whether your marketing efforts are effective by using marketing data to better understand your customer demographic, purchase histories, and penetration levels.
Interested in learning more about how you can leverage data at your dealership?
Read this next: Key Dealership Metrics to Measure Performance and Plan for Success