How Nisswa Marine Have Kept Their Team Aligned During Rapid Growth
Businesses that stand the test of time are built on a foundation of solid customer relationships. This is something that Nisswa Marine, who has been operating for over 85 years, believes strongly.
Nisswa Marine was founded on the shores of Nisswa Lake, Minnesota in 1935. When the Wiczek family purchased the dealership in 1998, they moved the dealership off the water but continued to service the Gull Lake Chain.
The Wiczek family's number one priority is customer service. A family business through and through, Nisswa Marine's customers aren't just customers—they're family. Through the hard years and the good, their customers continue to come back because Nisswa Marine takes care of people, the right way.
It's no wonder, then, that Nisswa Marine has seen some substantial growth in the last twenty-or-so years. While growth is always exciting, it does come with some challenges. When you've been in operation for a long time, it's easy for your team to become set in their ways. But often, the secret to steady growth can be to embrace change.
We spoke with Heather Wiczek, Operations Manager at Nisswa Marine, to learn how they were able to adopt a forward-thinking mindset to set their team up for success as their business continues to grow.
Can you tell me a bit about your role as Operations Manager at Nisswa Marine?
Heather: "I've been with Nisswa Marine for the last 22 years, since I started dating my husband, whose father ran the dealership at the time. I didn't start out where I am—I started out as the cleaning lady, picking up storage boats and helping around. Then, I slowly moved up to accounts payables and receivables, and now the management side of things, making policies and procedures, and running meetings with each department. I help with a bit of everything."
Nisswa Marine has grown quite a lot over the last 20 years. What are some growing pains your dealership experienced?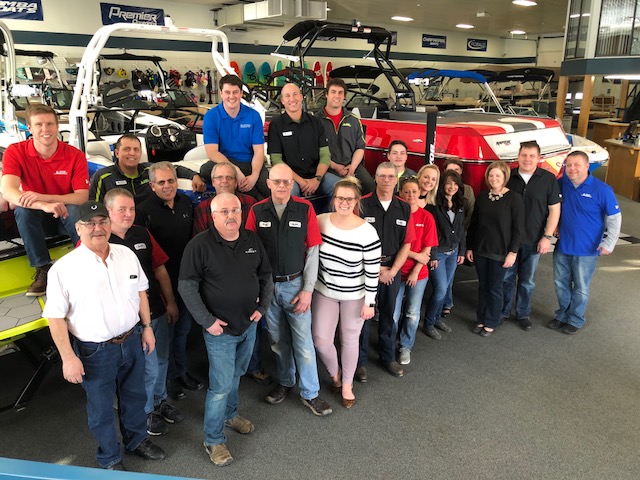 Heather: "When we outgrew our old DMS software, that was the main mile marker of our growth. We needed accountability across all departments. We used Total Control Software and Peachtree Accounting, along with an endless amount of spreadsheets, emails, and reports. But nothing was connected. We never knew exactly where we were until a boat got sold and we could do the sale. We didn't know how many boats in our inventory were actually sold, until the sale.
As our sales have gone up, we've realized our Sales team needs to know what is on the lot and ready to go. Our Service department needs to know what to do with that new or used boat that's going out, or if we need to fix it up so we can sell it. Accounting needs to know how much money we have going into the boat, if we need to fire sale it, what we need to do. Looking at everything and all the moving parts, we needed to have a grip on what we're doing on a day-to-day, week-to-week, and monthly basis.
Now that we knew we were growing fast, we needed to implement things to save time and align our team. We needed a totally integrated system where everything can talk to one another. IDS does that and does it very well."
Switching to a new management system can be daunting. How did you get buy-in from the rest of your team?
Heather: "One of the first things that we did as a team was to book demos early on with a couple of different dealer management systems. As management, we wanted the team to be empowered by helping us choose. IDS checked off a lot of the boxes and bells and whistles that we wanted, and most of my team were involved in that decision.
Then, to get them on board, we had to implement things on Service and Sales and show them how we were going to do it. We had to show them how easily things flowed through the system, and how your step A affects B, which equals C being done – we had to get them to realize it on their own by using the system. Sometimes they would get frustrated and say it didn't work, and we would say, 'Well, did you do it in the IDS way?' We had to keep reminding people, we have to get rid of what we've done for 20 years and we have to start new.
We had to implement what IDS was telling us to do. Typically, when we implemented what was supposed to be done, the right way, it worked.
Everyone on the team had to understand that it was a new thing and it would take time to learn. But once you learn it, it's easy. Once you understand that you need to add details to every sale upfront, you get used to it."
How has the upgrade to IDS, and the mindset shift that came along with it, impacted your business?
Heather: "Aligning people is a hard, hard thing to do – that has been one of our biggest challenges. Knowing what Sales put into the system affects the Service department, and that the techs and what they fix affect Parts and what they need to get. It all starts with who is putting in that work order, sale, or request.
Previously, our system used paper. We never used a computer to enter data. There was a time when we would have to hunt down our salesmen and ask, what do I need to do with this boat, how do I do it, what do I fix, what don't I fix, when is it going out, what time is it going out…now, with the Sales team putting their items on the sale, it's very clear what needs to be done. The need to push paper and question what to do with a sale is eliminated by being detail-oriented upfront. I don't want a tech to have to come and find me—I want them to find it, fix it and move it out.
We're still not totally paperless. But there was a time when the team would be writing their comments and parts on a piece of paper and it would get turned in—we are no longer doing that. So when a sale gets to our service writers to bill things out, the tech has already put in their comments on what they did, the labor is there. That makes it relatively easy to close it out, call the customer and say, your boat's ready to pick up or be delivered.
That is something huge that I'm seeing – as the team sees the circle being completed and done properly, they see that it wastes less time and this process works. I would say we are lightyears ahead of where we were before implementing IDS."
How did you find the process of implementing IDS at Nisswa Marine?
Heather: "IDS came here and they did training for us. We had told everyone on the team to watch the videos and come prepared. The change was daunting but the team that they sent was very knowledgeable; we've hired them back to do more training.
I'm glad we had the expectation of a learning curve. It was hard to get everybody on board, but we would go through it again in a heartbeat to be where we are now."
What tips would you give to other dealerships who are thinking of upgrading to a new DMS software?
Heather: "Remember that this is not going to be a light switch – it takes time, patience, and a mind shift. Everything that you know is new and you have to come up with different ways of doing things. It can be daunting but in the long run, it will save you time and heartache. Getting everyone on board is having a positive attitude themselves and showing them the positive effects of the change.
Be open and patient and know that things may go wrong, you may have to call IDS, but know that you have support there."