Over 50% of the RVBusiness Top 50 RV Dealers Rely on IDS to Run Their Business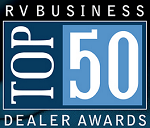 RVBusiness has named its 2016 Top 50 RV Dealers and over 50% of them use IDS's Astra dealer management software to manage their business. The premiere online and print publication for the RV industry will honor these recipients Wednesday, November 9th, as part of the RV Dealers International Convention/Expo festivities in Las Vegas.
Four IDS customers will also be recognized as "Blue Ribbon" dealership for their excellence in demonstrating best practices in every professional aspect of their business including profitability, employee relations, technician training, charitable giving, and placing a high priority on consumer care. These customers include Affinity RV (Prescott, Ariz.), Fraserway RV (Abbotsford, B.C.), Mount Comfort RV (Greenfield, Ind.) and Princess Craft (Round Rock, Tex.).
In addition, Verurinks' RV Center (Grand Rapids, Mich.) is this year's recipient of the Gaylord Maxwell Innovation Award, an honor named for the late RV consumer advocate, teacher and columnist. This award is presented to a dealer that exhibits an out-of-the-box business creativity. 
"Every year, I see such incredible dealerships on this list and we're honored to have over half of them as IDS customers," said IDS General Manager, Sean Raynor. "We've enjoyed establishing great relationships with these customers and have used their feedback to develop a product that makes the best dealerships better. I wish them all continued success." 
Here, in alphabetical order, are the IDS customers named as 2016 RVBusiness Top 50 Dealers: 
Affinity RV Service, Sales & Rentals – Prescott, Ariz.
All Valley RV Center – Acton, Calif.
American RV Sales & Service – Grand Rapids, Mich.
ArrKann Trailer & RV Centre – Edmonton, Alta.
Bucars RV Centre – Balzac, Alta.
Bullyan RV – Duluth, Minn.
Coachlight RV Sales – Carthage, Mo.
Colerain RV – Cincinnati, Ohio
Crestview RV Center – Buda, Tex.
ExploreUSA RV Supercenter – Plano, Texas
Fraserway RV – Abbotsford, B.C.
General RV Center – Wixom, Mich.
Guaranty RV Super Centers – Junction City, Ore.
Hilltop Trailer Sales – Fridley, Minn.
Jamatt RV Sales – Poteau, Okla.
Moix RV Supercenter – Conway, Ark.
Mount Comfort RV – Greenfield, Ind.
Pan Pacific RV Centers – French Camp, Calif.
PleasureLand RV Center – St. Cloud, Minn.
Princess Craft – Round Rock, Tex.
Rangeland RV – Rockyview, Alta.
RV City – Morinville, Alta.
Tennessee RV Supercenter – Knox, Tenn.
Veurinks' RV Center – Grand Rapids, Mich.
Wilkins Recreational Vehicles, Inc. – Bath, N.Y.
Woody's RV World, – Calgary, Alta.