IDS Mobile App Named as a 2015 Top Product by Boating Industry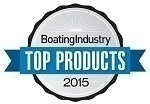 Wake Forest, NC – May 5, 2015 – The IDS Mobile App, a product of marine dealer management software provider Integrated Dealer Systems, has been selected as a 2015 Top Product by Boating Industry Magazine. The announcement was made by the marine publication on May 1st. 
In order to be selected by Boating Industry as a 2015 Top Product, the product had to be introduced or significantly updated in 2014. From hundreds of nominations, the winners were selected based off many factors such as their impact on the industry, innovation, and how they advanced in their category.
As the innovator in mobile technology for the marine industry, IDS designed its mobile app to integrate with the Astra G2 dealer management system and provide service writers, technicians, salespeople, and parts department employees with the ability to perform key daily tasks from anywhere in a dealership. It's a product that has seen significant development over the last year in inventory control, checking-in a unit for service and adding images to work orders, clocking in and out of work orders, and most recently, payment processing.
"We are excited to be recognized for our efforts," said IDS General Manager, Sean Raynor. "Our dedicated product development team has worked hand-in-hand with leading marine dealers to develop a best-in-class mobile solution. Our customer-centric approach is the key to the success of the product."
For more information on the IDS mobile app, visit www.ids-astra.com.
# # #
About Boating Industry Magazine:
Boating Industry magazine is a leading trade publication providing the latest news to the marine industry.  Known for its Top 100 Dealer program, the publication reaches all sectors of the marine trade industry – marine dealers, marinas, boatyards, boat builders, manufacturers, marine retailers and suppliers. For more information, visit https://www.boatingindustry.com.
About Integrated Dealer Systems:
Integrated Dealer Systems (IDS), a product of Constellation Dealership Software, is recognized as a leading provider of dealer management for the marine industry. With nearly 30 years of proven service and industry experience, IDS is a comprehensive solution designed to save dealers time, boost profits and automate all of their business operations.  For more information, visit www.ids-astra.com.