IDS Marine Dealer Customers Dominate Boating Industry's Top-20 List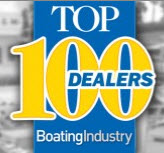 Integrated Dealer Systems, a leading dealership software provider, is pleased to announce that 14 of its clients were recognized among Boating Industry's Top 100 marine dealers at the annual Marine Dealer Conference & Expo on December 8th in Orlando, FL. Of those 14 dealerships, eight were named to the Top 20, surpassing last year's results.
"From the thousands of dealers in North America – and hundreds of nominations – these 100 dealers are the best of the best," said Boating Industry Editor in Chief Jonathan Sweet. "These dealers excel not only at the business of selling boats, but also delivering a great customer experience."
IDS customers that made the Top-20 list include The Sail & Ski Center in Austin, TX (#2), Russell Marine in Alexander City, AL (#4), Strong's Marine in Mattituck, NY (#5), Port Harbor Marine in South Portland, ME (#7), M&P Mercury Sales Ltd in Burnaby, BC (#9), Bosun's Marine in Mashpee, MA (#11), Buckeye Marine in Bobcaygeon, ON (#13) and Irwin Marine in Laconia, NH (#18).
Three IDS customers also received "Best in Class" awards:
Bosun's Marine – Best Industry Advocate
M&P Mercury Sales – Best Customer Service
Irwin Marine – Best Training & Benefits
"The Top 100 and Hall of Fame reached nearly $2.7 billion in total revenue in 2015, surpassing last year's total by more than $100 million," Sweet said. "These dealers also faced stiff competition to make the list, with the highest number of applications since the recession."
"I'm proud to see so many of our clients make the Boating Industry's Top-100 list," said IDS General Manager Sean Raynor. "Their constant input has allowed us to shape the IDS system into what it is today, and I hope that in return, it helps them find the success and recognition they deserve."
About IDS
IDS (Integrated Dealer Systems) is one of the world's leading providers of complete software solutions for marine, RV and trailer dealerships. With over 10,000 software users in dealerships across North America, IDS has set the standard for quality and customer satisfaction for 30 years.