IDS Releases Contactless Convenience Features to Help Dealerships Run Smoothly in the New Normal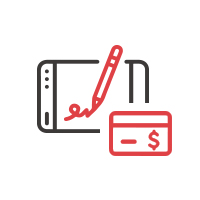 Wake Forest, NC, February 19, 2021— Integrated Dealer Systems (IDS), a leading RV, marine and trailer dealership software provider, is happy to announce the release of a new set of features that will allows dealerships to operate smoothly within the increased restrictions.
Recognizing the importance of being able to complete sales and process payments online, IDS has implemented three features that will not only allow dealerships to maintain their momentum, but also expedite payment processes so they can work more efficiently than before.
The Contactless Convenience features are:
Digital Payments: Dealers can send invoices to customers in the form of an email or a customizable text alert, directly from IDS Astra G2. Thanks to IDS' integration with Gravity Payments, customers can then make their payment, with total security, from the comfort and safety of their home. Once a customer completes their payment, the payment information will update automatically in the system, along with necessary GL entries.
Digital Signatures: Customers no longer need to wait around the shop to sign work orders—now, dealers can email WOs directly to them using IDS Astra G2's Digital Signatures Portal. Once a document has been signed, the Work Order is saved in the Document Manager in IDS Astra G2, allowing dealers to access the full document at any time.
All of these features are accessible to customers on their phone, tablets, and desktop computers—meaning dealers can cut out the wait time for customers to come in and deliver physical payments and signatures.
About IDS
IDS (Integrated Dealer Systems) is one of the leading providers of complete software solutions for RV, marine and trailer dealerships. With over 10,000 software users in dealerships across North America, IDS has set the standard for quality and customer satisfaction for 30 years.