IDS Customers Account for 60% of the Top 10 Dealers Recognized at Boating Industry's Annual Top 100 Gala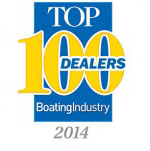 Orlando, FL – December 2, 2014 – IDS customer Legendary Marine of Destin, FL, was inducted into Boating Industry's Top 100 Hall of fame, and six IDS customers were named Top 10 dealers Wednesday night at the publication's annual black-tie gala at the MDCE in Orlando. "For a decade, Boating Industry has recognized the best boat dealers in North America as the Top 100," said Boating Industry editor-in-chief Jonathan Sweet.
"These dealers are truly the elite of the marine industry, recognized for their business acumen, customer service and overall excellence." The Top 20 members of the Top 100 were ranked, with the remaining 80 being recognized as Top 100 dealers. Seven IDS customers were named in the Top 20, including six recognized in the Top 10. Those named to the Top 20 include Russell Marine in Alexander City, AL, who was ranked #2 overall, The Sail & Ski Center in Austin, TX (#4), Strong's Marine in Mattituck, NY (#7), M&P Mercury Sales in Burnaby, BC (#8), Port Harbor Marine in South Portland, ME (#9), Buckeye Marine in Bobcaygeon, ON (#10), and Bosun's Marine in Mashpee, MA (#13).
In addition, four customers received "Best in Class" awards. Russell Marine received Best Events honors, M&P Mercury Sales was awarded with Best Community Outreach, The Sail & Ski Center was the recipient of the Best Training and Benefits award, and MarineMax took home Best Marketing honors.
"Congratulations to all of the Boating Industry Top 100 Award winners," said IDS General Manager Sean Raynor. "We are proud of the fact that IDS provides the software that helps so many of these dealers manage their business and serve their customers more effectively."