IDS Customers Account for 50% of the RVBusiness Top 50 RV Dealers, Including Four Blue Ribbon Recipients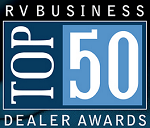 Wake Forest, NC – October 6, 2015 – RVBusiness, a premiere online and print publication for the RV industry, has released its Top 50 RV dealers for 2015 and over 50 percent of them use the IDS dealer management software to manage their business. These dealers will be honored Wednesday, November 4th, at the RV Dealers International Convention/Expo in Las Vegas.
In addition to being named some of the best dealerships in the country, IDS customers Guaranty RV (Junction City, OR), Tennessee RV Superstore (Knoxville, TN), Veurinks' RV Center (Grand Rapids, MI), and Woody's RV World (Calgary, AB) received Blue Ribbon honors for their commitment to best practices in every professional aspect of their business including profitability, employee relations, technician training, charitable giving, and placing a high priority on consumer care. 
IDS Customer, Mount Comfort RV (Greenfiled, IN), was this year's recipient of the Gaylord Maxwell Innovation Award, an honor named for the late RV consumer advocate, teacher and columnist. This award is presented to a dealer that exhibits an out-of-the-box business creativity.
"When I look at the names on this list, I see lots of great people that work in and manage these dealerships every single day," said IDS General Manager, Sean Raynor. "They have earned it, and our system is inspired by the feedback of these most prominent dealers. They help make us better."
The following is a full list of IDS customers named as 2015 RVBusiness Top 50 Dealers:
Affinity RV Service, Sales & Rentals – Prescott, AZ

American RV Sales & Service, Inc. – Grand Rapids, MI

ArrKann Trailer & RV Centre – Edmonton, AB

Big Country RV – Bend, OR

Bucars RV Centre – Balzac, AB

Bullyan RV – Duluth, MN

Carolina Coach & Marine – Claremont, NC

Coachlight RV Sales – Carthage, MO

Crestview RV Center – Buda, TX

Dixie RV SuperStores, Hammond, La.

ExploreUSA RV Supercenter, Plano, Texas

General RV Center – Wixom, MI

Guaranty RV – Junction City, OR

Hayes RV Center – Longview, TX

Hilltop Trailer Sales – Fridley, MN

Little Dealer Little Prices – Phoenix, AZ

Mount Comfort RV – Greenfield, IN

Pan Pacific RV Centers, Inc. – French Camp, CA

PleasureLand RV Center – St. Cloud, MN

Rangeland RV – Balzac, AB

Tennessee RV – Knoxville, TN

Thompson Family RV, Davenport, IA

Veurinks' RV Center – Grand Rapids, MI

Wilkins Recreational Vehicles, Inc., Bath, NY

Woody's RV World – Calgary, AB
# # #
About Integrated Dealer Systems:
Integrated Dealer Systems (IDS) is a leading provider of dealer management software RV, Marine and Trailer industries. In 2009, IDS was acquired by Constellation Software Inc.  As part of the Constellation family, IDS continues to provide the individual attention you expect from a family-oriented, medium-sized company while benefitting from the support and best practice influence of a 180 company/2000+ employee organization. Visit www.ids-astra.com for more information.
About RVBusiness:
RVBusiness, located in Elkhart, IN, is the premiere, print-and-online, business-to-business voice of the North American recreational vehicle arena. Its staff is dedicated to providing the most up-to-date information — print and online — regarding RV manufacturers, suppliers, dealers, distributors, manufacturers' reps, campground operators, service outlets and trade associations involved in the fast-paced RV sector. For more information, visit https://www.rvbusiness.com.