Integrated Dealer Systems Customers Dominate 2017 RVBusiness Top 50 RV Dealers Awards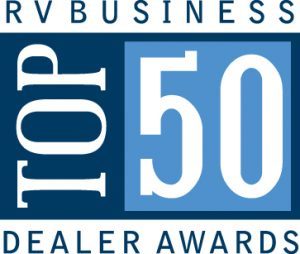 IDS announces that more than 50% of the recipients of this year's RVBusiness Top 50 Dealer Award are its customers.
Wake Forest, NC, October 31, 2017 – Integrated Dealer Systems (IDS), a leading RV, Marine and Trailer dealership software provider, is pleased to announce that more than half of the recipients of this year's RVBusiness Top 50 Dealer Award are IDS customers. RVBusiness magazine and its marketing partner BJ Thompson Associates released the list of these top Canadian and U.S. dealerships on September 27th, with the public ceremony slated for November 8th.
The ceremony will take place at a gala awards reception during the Recreation Vehicle Dealers Association International Convention/Expo co-hosted by the U.S. Recreation Vehicle Dealers Association and RVDA of Canada on November 6-10 at Bally's in Las Vegas.
"We're pleased not only with the general esteem with which a 'Top 50' dealer logo is now held by marketing-minded dealers and a growing array of consumers, but also as a respected benchmarking tool for participating retailers," said RVBusiness Publisher Sherm Goldenberg. "This whole program has developed into a rather interesting source of self-analysis for RV dealers who are prompted by the questions in a detailed application to look in the mirror at their own operations and the opportunities and issues they and the rest of the industry face – even during this current upbeat market."
Out of those 50 dealers, RVBusiness has singled out five "Blue Ribbon" honorees for their exemplary performances. Among them are two IDS customers – Colerain Family RV and Veurinks' RV Center. In addition, Manteca Trailer & Motorhome, another IDS customer, is set to receive the "Gaylord Maxwell Innovation Award" from Lippert Components Inc. for its creative business strategies.
"I'm proud to call these dealers our customers," said IDS General Manager Sean Raynor. "They've helped us build our software into what it is today through their honest feedback and countless suggestions. Hopefully, in return, we've helped some of them make it onto this Top 50 list."
Here is a full list of IDS customers named as 2017 RVBusiness Top 50 Dealers (in alphabetical order):
Affinity RV Service, Sales & Rentals – Prescott, Ariz.
ArrKann Trailer & RV – Edmonton, Alberta (CAN)
Big Country RV – Bend, Ore.
Bucars RV Centre – Balzac, Alberta (CAN)
Bullyan RV – Duluth, Minn.
Burlington RV Superstore – Sturtevant, Wis.
Coachlight RV Sales – Carthage, Mo.
Colerain Family RV – Cincinnati, Ohio
Crestview RV Center – Buda, Texas
Dixie RV SuperStores – Hammond, La.
ExploreUSA RV Supercenter – Plano, Texas
Fraserway RV – Abbotsford, British Columbia (CAN)
General RV Center – Wixom, Mich.
Giant Recreation World – Winter Garden, Fla.
Guaranty RV Super Centers – Junction City, Ore.
Hilltop Camper & RV – Fridley, Minn.
Lardners Trailer Sales – Saskatoon, Saskatchewan (CAN)
Manteca Trailer & Motorhome – Manteca, Calif.
Moix RV Supercenter – Conway, Ark.
Mount Comfort RV – Greenfield, Ind.
Pan Pacific RV Centers – French Camp, Calif.
PleasureLand RV Center – St. Cloud, Minn.
Princess Craft – Round Rock, Texas
Tennessee RV Supercenter – Knox, Tenn.
Veurinks' RV Center – Grand Rapids, Mich.
Vogt RV Centers – Ft. Worth, Texas
Wilkins RV – Bath, N.Y.
IDS continuously upgrades its dealership management software based on the feedback from dealers like the ones on the list above to ensure they receive the tools they need to succeed. Those who wish to learn more about IDS can do so by visiting its official website at www.ids-astra.com.
About IDS
IDS (Integrated Dealer Systems) is one of the leading providers of complete software solutions for marine, RV and trailer dealerships. With over 10,000 software users in dealerships across North America, IDS has set the standard for quality and customer satisfaction for 30 years.
About RVBusiness
RVBusiness, located in Elkhart, IN, is the premiere, print-and-online, business-to-business voice of the North American recreational vehicle arena. Its staff is dedicated to providing the most up-to-date information — print and online — regarding RV manufacturers, suppliers, dealers, distributors, manufacturers' reps, campground operators, service outlets and trade associations involved in the fast-paced RV sector. For more information, visit http://www.rvbusiness.com.